by guest blogger Miriam Webster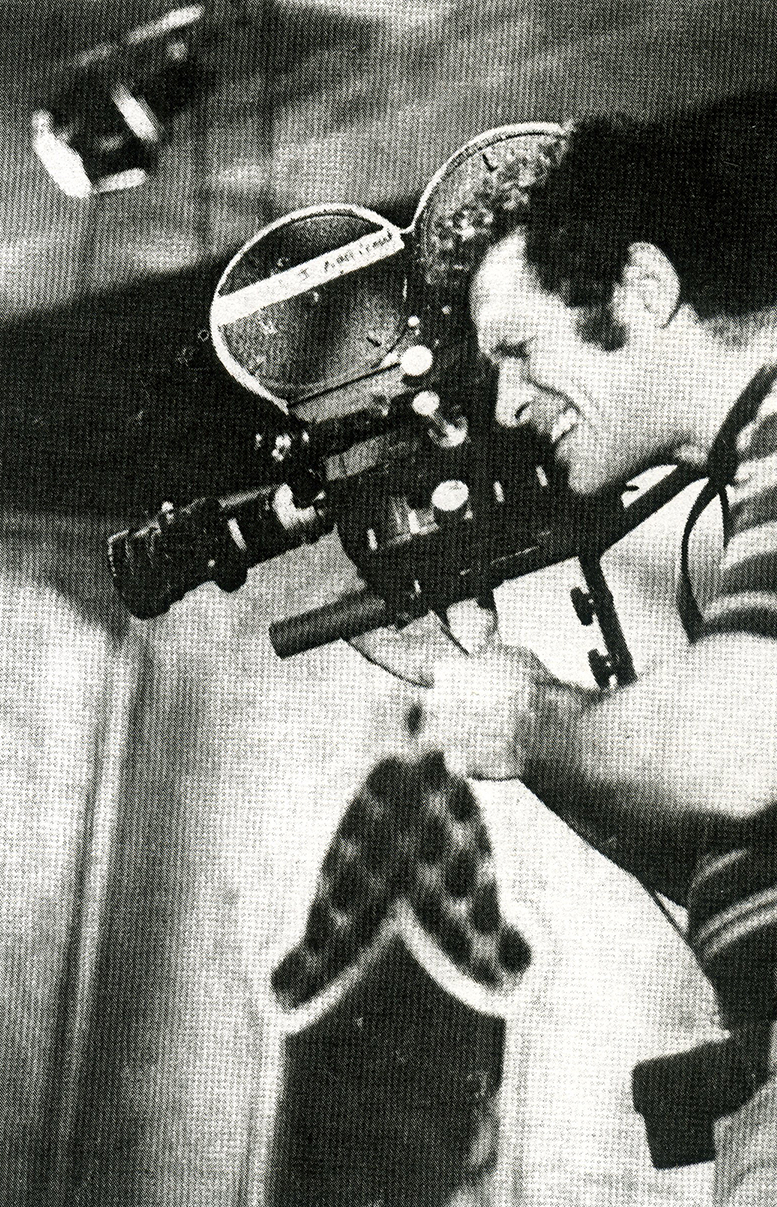 Jack Deveau was one of the major directors, producers, and distributors of gay porn from 1972 to 1982. He made films that were "literate, artistically ambitious and, of course, sexually hot" (Mandate); shot films in Paris, Fire Island, NYC, and Woodstock, NY; and helped to launch careers in gay porn for countless writers, directors, actors, and musicians. Hand in Hand Films, the studio co-founded by Deveau with Robert Alvarez and Jaap Penraat, was referred to as "the M.G.M of gay porno" (with Deveau dubbed "the Louis B. Mayer") and was known for making and distributing many high quality productions.

Jack was born in Manhattan, New York on January 25, 1935. He attended Cornell University, Sir George Williams College, and McGill University. In the early '70s, he was working at an architecture and graphic design business and – with his business partner, renowned architect/designer Jaap Penraat – had developed several patents and co-authored a book. At this time, Jack's lover Robert Alvarez and their friend, Rebel Without a Cause actor Sal Mineo, suggested to Jack that he ought to get into making movies. Robert told Manshots, in a 1982 interview, that he knew Jack would be well-suited for this profession: "I thought he was a natural. I thought he had a kind of charisma, the ability to make people listen, to make people enjoy what they were doing... Whoever he set his sights on, he could somehow charm into doing anything or saying what he wanted. He was the kind of person who, literally, had a lot of tricks up his sleeve – because he'd studied magic [when he was young] – and he was used to dealing with people."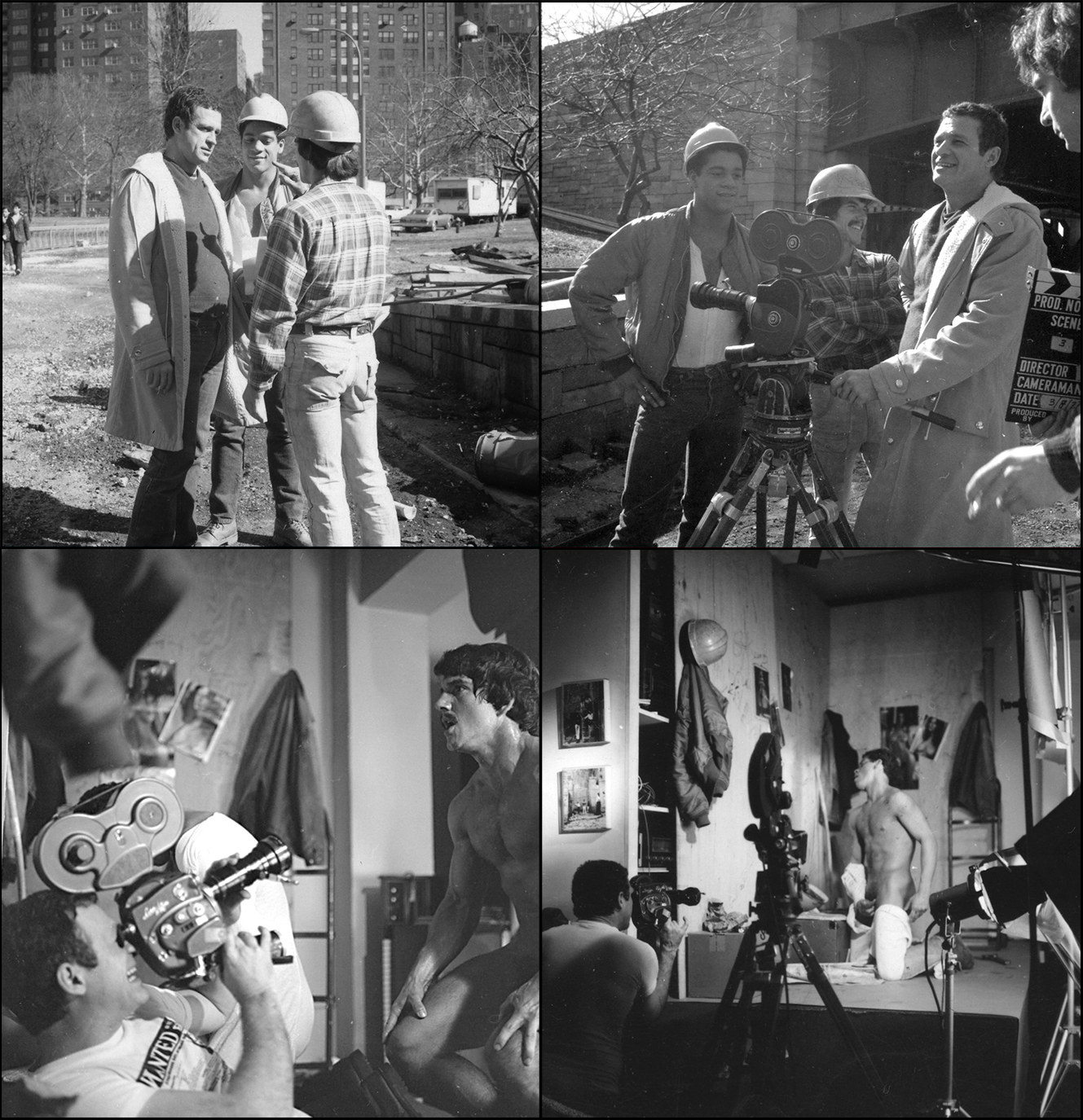 Jack and cast on the set of Sex Magic (1977)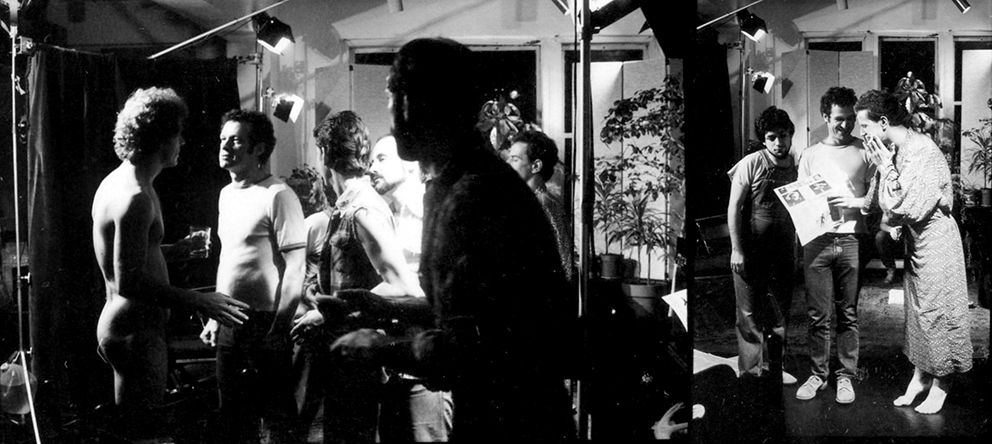 Jack Deveau, cast & crew on the set of Ballet Down the Highway (1975)
Alvarez had become a film editor several years prior, working on underground/experimental films and documentaries and laying the music track for landmark early gay hardcore film Boys in the Sand (Wakefield Poole), which Jack also helped to promote. Alvarez wanted to make a film with Jack "because from the beginning I wanted us to work together. That's part of what the relationship meant to me. I just wanted him around all the time." Jack had seen some of his friends producing porn films and making a profit from them, but he was still unsure about being in the movie business. Sal convinced Jack to accompany him to a production meeting for one of his upcoming films. "I didn't really know what he had in mind," said Jack, "but I went and sat quietly in a corner while a room full of film executives said some of the dumbest things I'd ever heard. I thought, I could do better than that, so with a little more encouragement, I became a film producer."

Deveau, Alvarez, and Penraat formed New York-based studio Hand in Hand Films in 1972 with the aim of creating an alternative to the minimally plotted West Coast gay films that made up the majority of what was being produced. They wanted to create a definite East Coast look and feel and to produce artistically and narratively strong releases. The studio began with the production of their first film, Left-Handed, a feature directed by Deveau and Penraat about a hustler who seduces, then dumps, a straight man.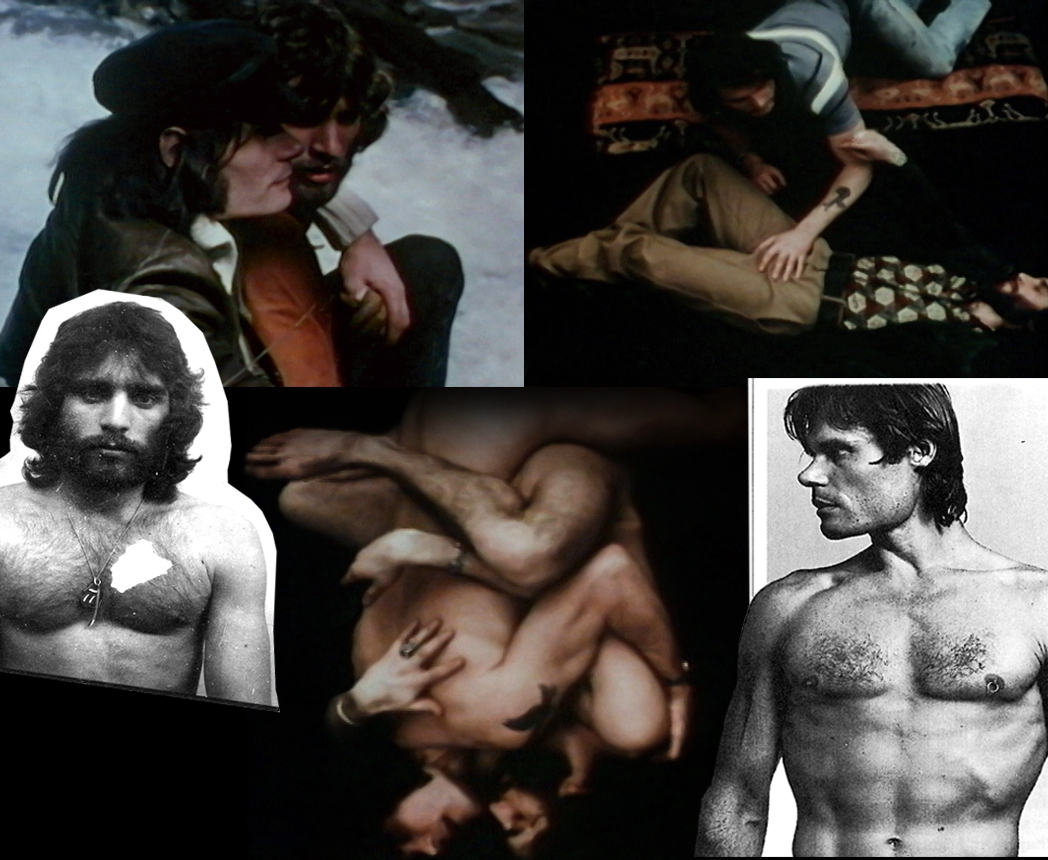 Ray Frank and Robert Rikas, stars of Left-Handed (1972)
Robert Alvarez remarked on the film's tone and themes to Manshots, saying "It's cynical in a way, because Jack was cynical in a way about a lot of gay relationships and things that happen in gay society... It had a real story to tell. It had characters you could identify with, whether you liked them or not. Like, the lead character is sort of a shit. It was a breakthrough in that sense because it had an anti-hero. It also had all the required elements to make it a hardcore film." The film's budget – fairly large compared to what was being spent on gay porn films at the time – came from Jack, who sold his stocks and took out loans to pay for it.

Left-Handed was shot on 16mm on a Bolex, as were many later Hand in Hand films. Jack was the primary cinematographer for the films he directed as well as for several of their other productions by different directors. Alvarez referred to Jack as a "tinkerer" who had a background in still photography: "He knew about the exposures and focus and all that business... He knew how to take a camera apart and put it back together. He knew exactly what made it work."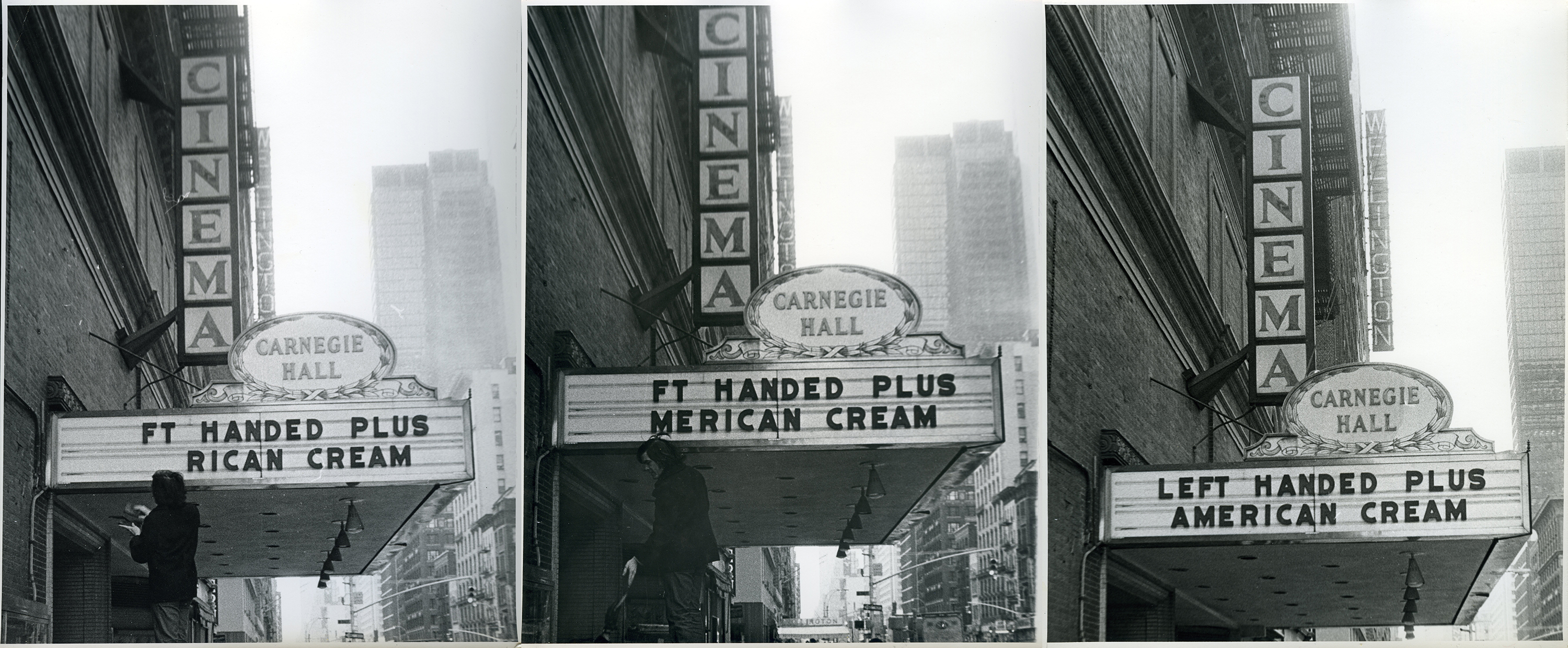 The Carnegie Hall Cinema preparing to premiere American Cream & Left-Handed
Left-Handed premiered at the Carnegie Hall Cinema, adjacent to Carnegie Hall, and was well-received, getting glowing reviews from Variety and a number of gay publications. The film ran for a time there and at the 55th Street Playhouse, also in NYC. Then Jack and Robert took "a cross-country trip in Jack's new Maserati (Jack felt we had to look the part of movie moguls) to meet and sell our movie to other cities' owners of gay x-rated venues." Having got to know the exhibitors in the gay film market, Hand in Hand began to make and distribute additional films, becoming the first company to "provide a sort of national clearing house for gay films" (Manshots). Instead of selling prints to exhibitors, which most people were doing at the time and which resulted in many pirated film prints being created and screened, Hand in Hand rented out prints of the films they carried, winning over exhibitors by guaranteeing that they would have high quality new product regularly available. They were able to achieve this by promoting the brand name of Hand in Hand, itself, and attracting other directors to it. These included Peter de Rome (whose collection of shorts, The Erotic Films of Peter de Rome, was Hand in Hand's next release), Tom DeSimone (Catching Up, The Idol), Arch Brown (The Night Before), playwright Jean-Claude van Itallie (American Cream), John Stephens (Jack), and more.

1974 saw the release of Jack's most wild and ambitious film, Drive, co-written with and starring Christopher Rage and featuring a cast of 50 men; a short stint where Jack and Robert owned the Lincoln Art Theatre in New York (where they showed Drive and Gerard Damiano's classic straight porn The Devil in Miss Jones); and Jack and Peter de Rome shooting de Rome's first feature, Adam and Yves, in Paris. (Jack was the cinematographer and producer for Peter's second and final feature, The Destroying Angel, in 1976.)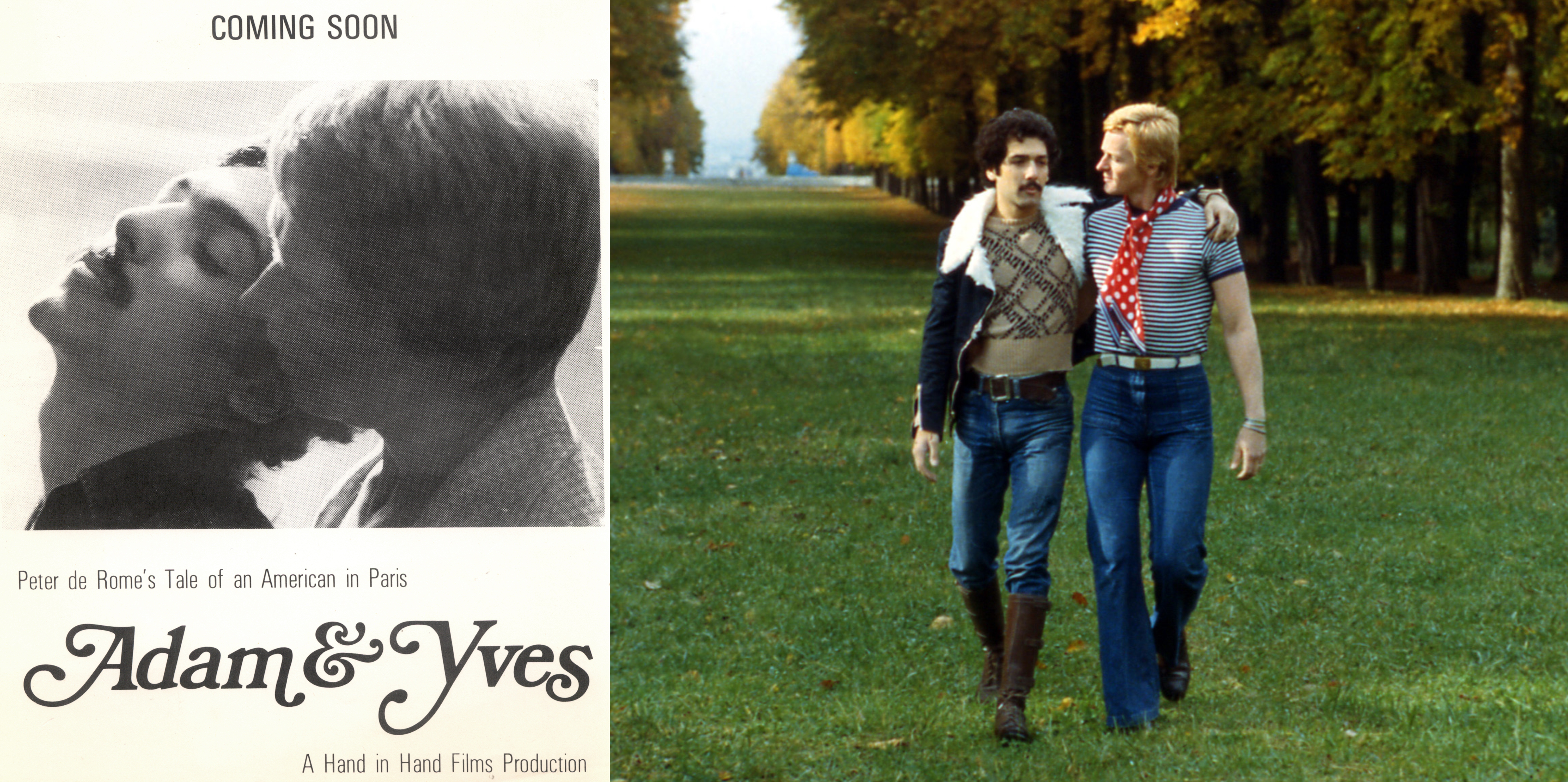 Peter de Rome's Adam and Yves (1974)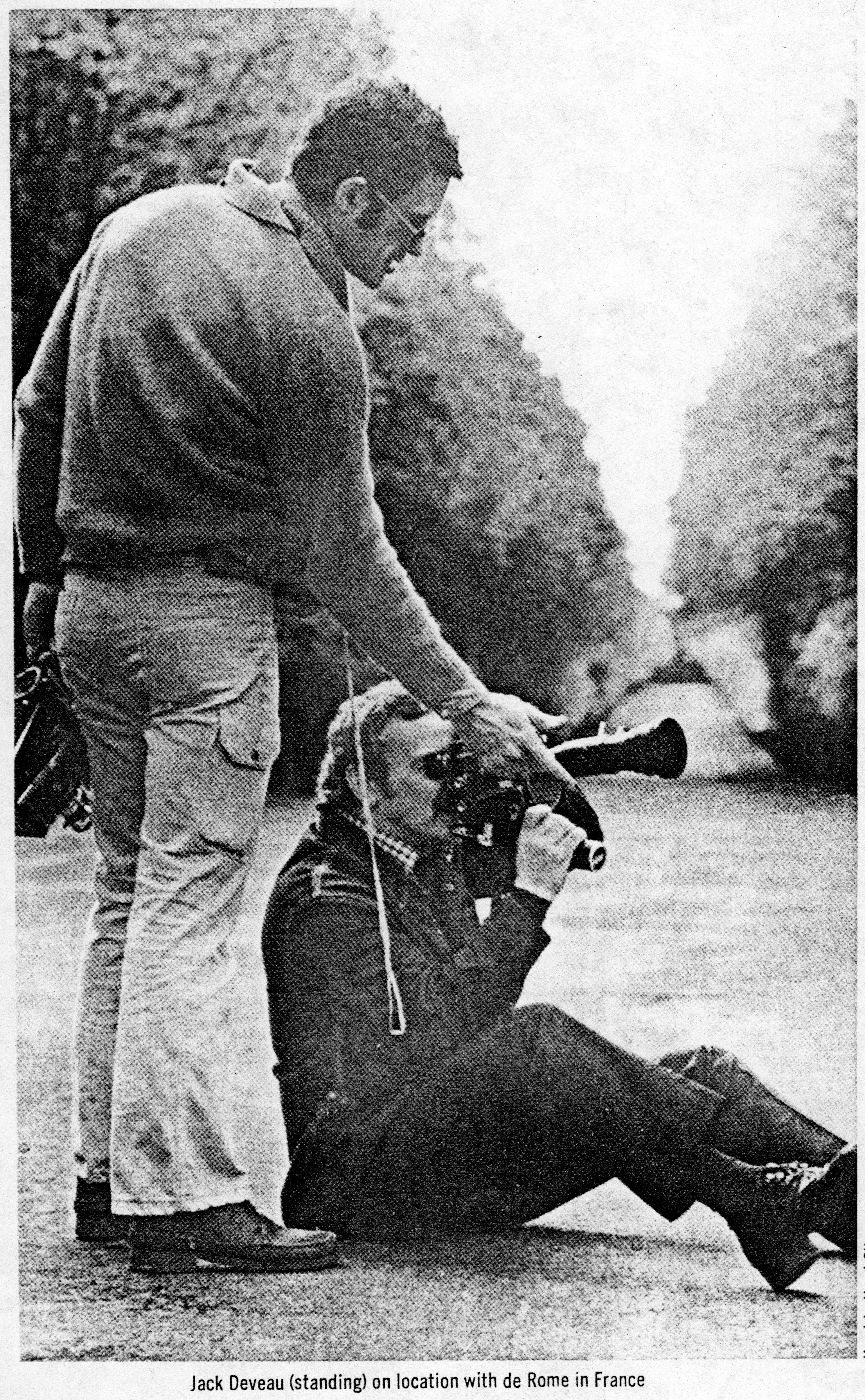 Jack Deveau and Peter de Rome filming Adam and Yves in France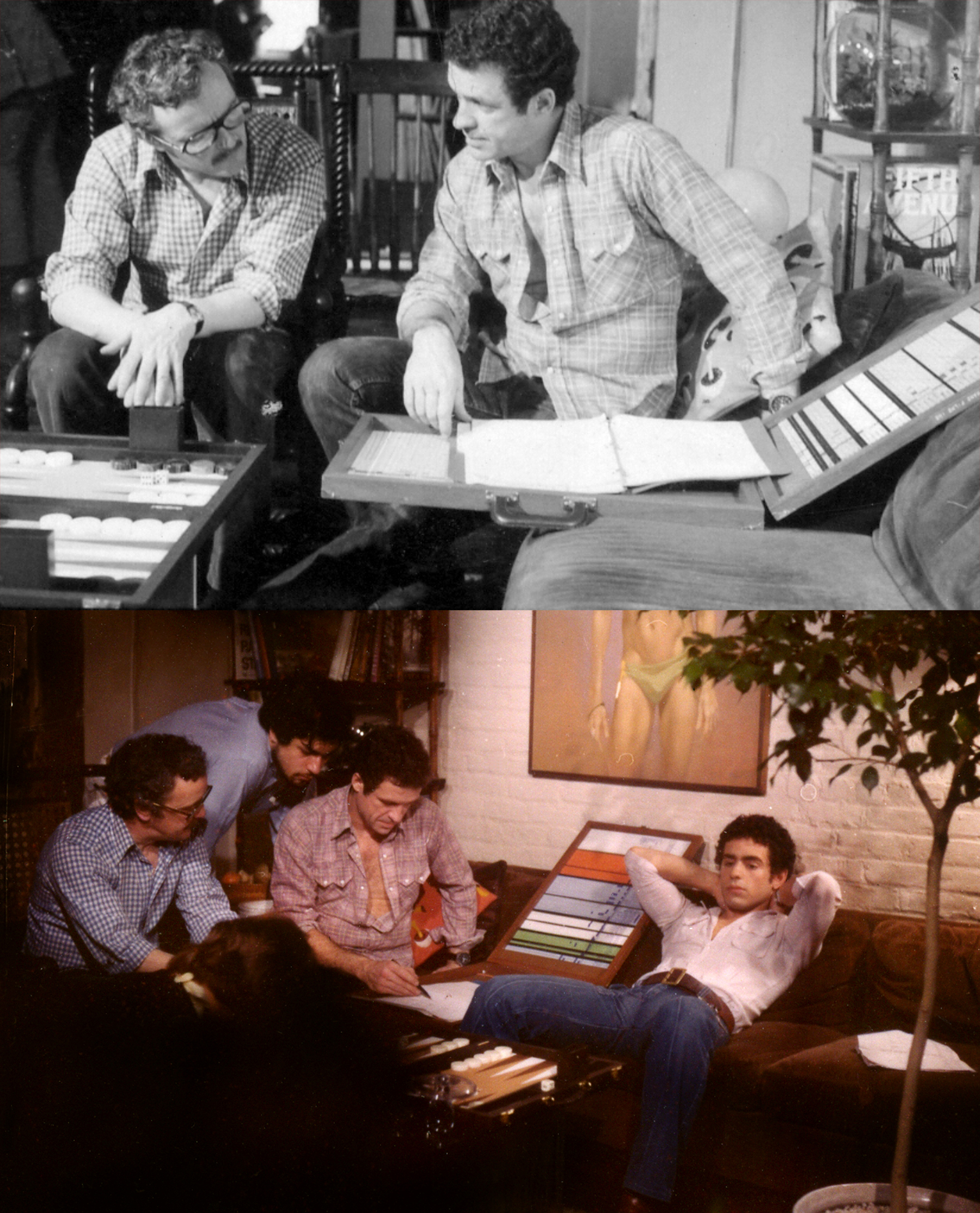 Jack Deveau and Peter de Rome on the set of The Destroying Angel (1976)
Jack (who had French roots) spent more time in France shortly afterwards, when Hand in Hand's documentary Good Hot Stuff (1975), a fascinating behind the scenes look at the production of gay porn films in the '70s, became the first gay porn film to open in Paris, billed there as Histoires d'Hommes. The run in Paris was successful. Said Jack, "Not only did we get lots of interesting press and critical attention, most of it quite favorable, but the film out-grossed Nashville our opening week. The most satisfying part of the whole experience, though, was to be treated as a serious filmmaker."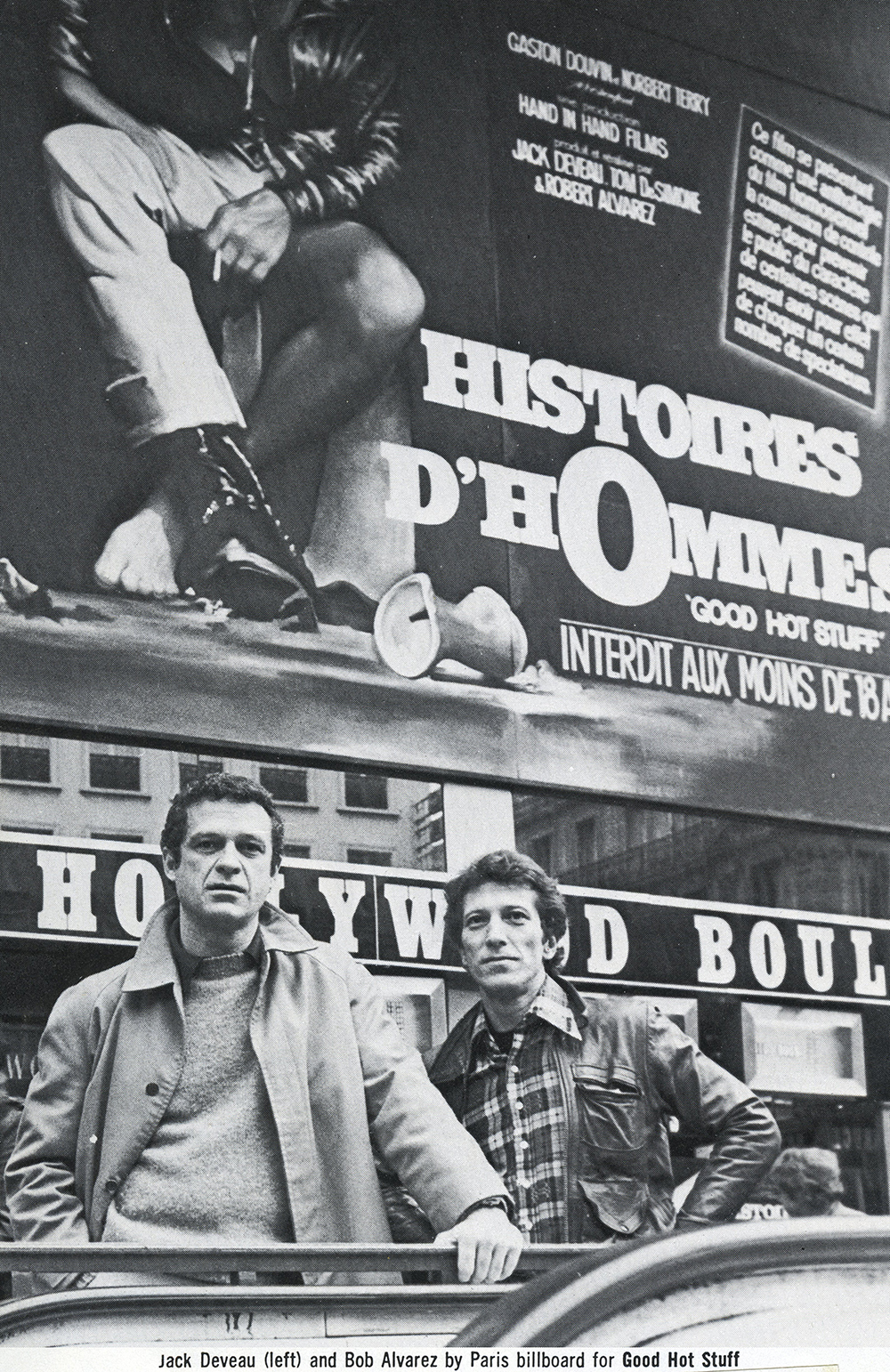 You can watch excerpts from Good Hot Stuff here on our YouTube channel and see clips of Jack Deveau, himself, discussing filmmaking. He would return to Paris a year later to shoot Le Musee (later re-titled Strictly Forbidden and released, after a delay, posthumously) at the Musee Rodin, with cooperation from the French government.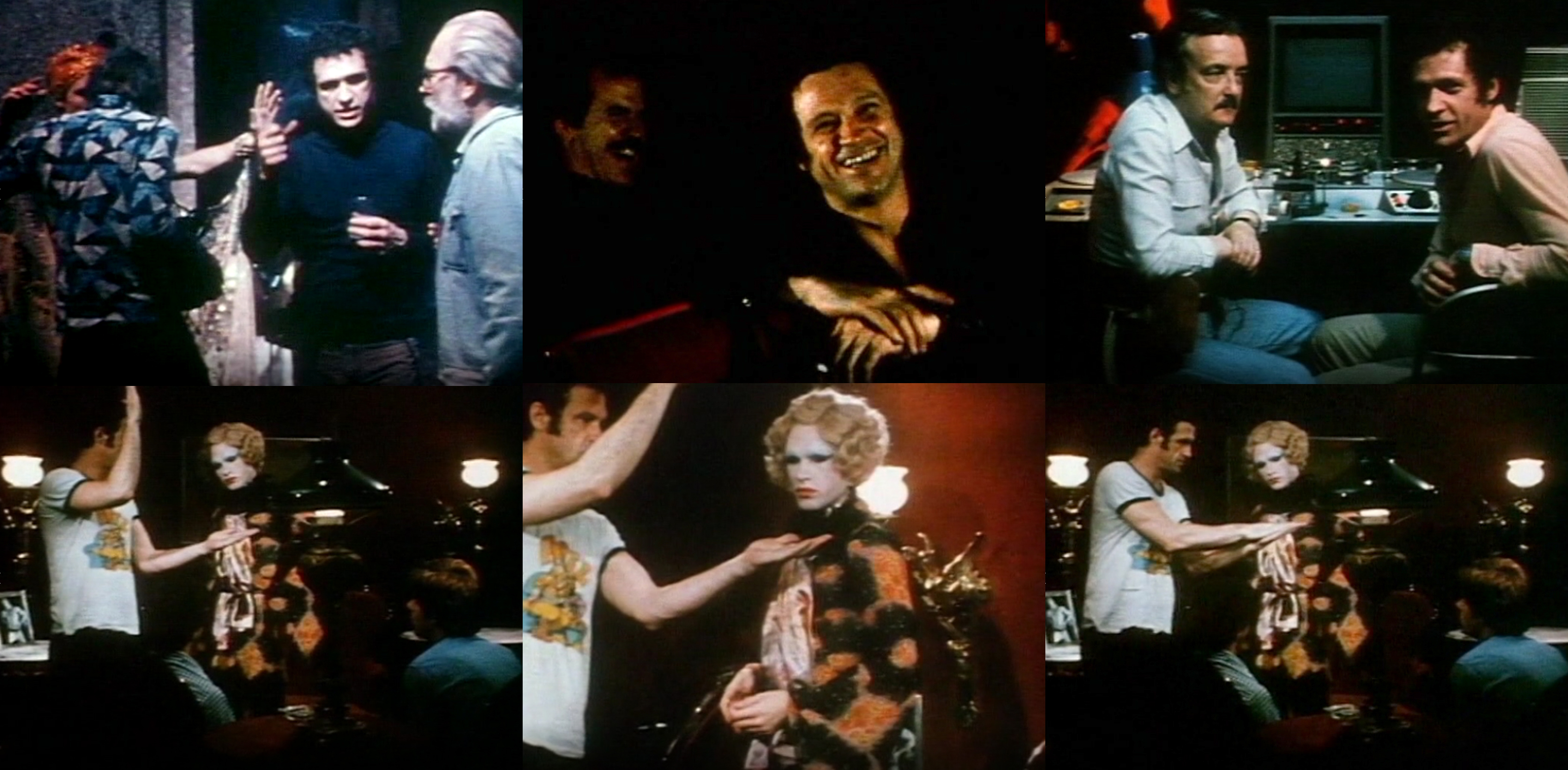 Jack with Penraat, de Rome & Christopher Rage in Good Hot Stuff (1975)
After Good Hot Stuff, Jack directed two excellent dramatic character pieces, Ballet Down the Highway and Wanted: Billy the Kid, in quick succession. Ballet Down the Highway was highly promoted and, according to an oddly glib and scathing Michael's Thing write-up, had a large premiere with champagne and souvenir t-shirts which was attended by Jamie Gillis, Divine, and Tennessee Williams.

Hand in Hand make-up artist Gene Kelton, Jack Deveau, Jettie Penraat, Jamie Gillis, and Divine at the Ballet Down the Highway premiere
Jack always sought out talented writers and cast and crew members to work with. He recruited writer Lorenzo Mans (aka P.P. Mans) for Ballet Down the Highway and worked with trained dancers on a choreographed ballet sequence in that film. Hand in Hand soundtracks include outstanding original music by Emmy Award-winning television and Broadway composer Stan Freeman (Left-Handed, Drive, Ballet Down the Highway) and talented orchestral composer David Earnest (The Night Before, Drive, Adam and Yves, Ballet Down the Highway, and Wanted: Billy the Kid).

In performers, Jack would use his instincts to find men who had the right combination of elements to work well on screen: "When you're looking for men who can suck and fuck for the screen and in front of a crew of technicians, there's a poise and confidence that emanates from those who can. You can feel it just sitting and talking to someone. We also ask why the applicant wants to appear in a pornographic movie. If money is the only answer, I'm rarely interested in going any further. The work of being in a porn film, the physical and mental demands, just can't be bought with money alone. You have to have some interest in being in front of a camera, whether through sheer narcissism or attempting to ply your craft as an actor. And as corny as it sounds, there is such a thing as star quality, a sense of himself a man can have that sets him apart."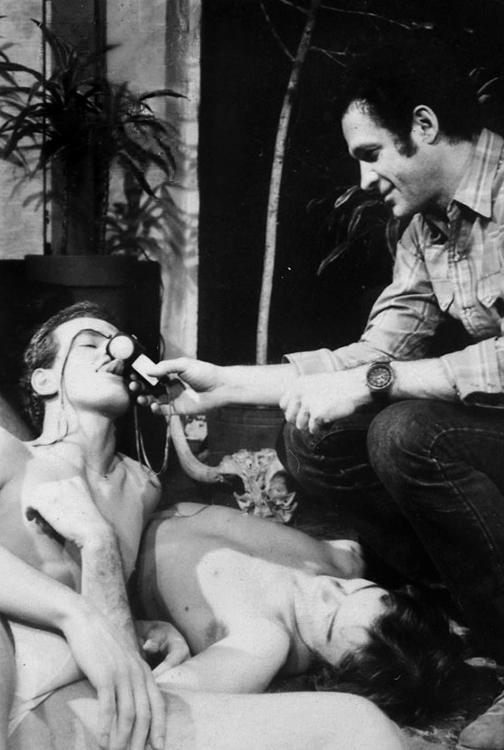 Star Henk van Dijk licking Jack Deveau's light meter on the set of Ballet Down the Highway (1975)
In addition to Jack's charm and people skills, Robert Alvarez discussed with Manshots his quickness and adaptability, which helped Jack to reshape anything that wasn't working during the shooting of a film and make it function. Jack's friend and Hand in Hand business associate Kees Chapman described how Jack always wanted to use the best equipment. For A Night at the Adonis (a 1978 film set in the Adonis Theater and starring Jack Wrangler, Malo, and Jayson MacBride), Jack wanted to get a stead cam, "which he was just dying to use, and this was the place to use it." They were supposed to be cutting back on their spending because of changes in the industry taking place by the late '70s which made large scale productions less profitable, but Jack still wanted to get the technical side right. Chapman: "I miss Jack's influence that way, because – as much as I was always trying to pull him back and say, 'You can't rent another light because we can't afford it' – he'd go rent ten more – and he'd always be right.'"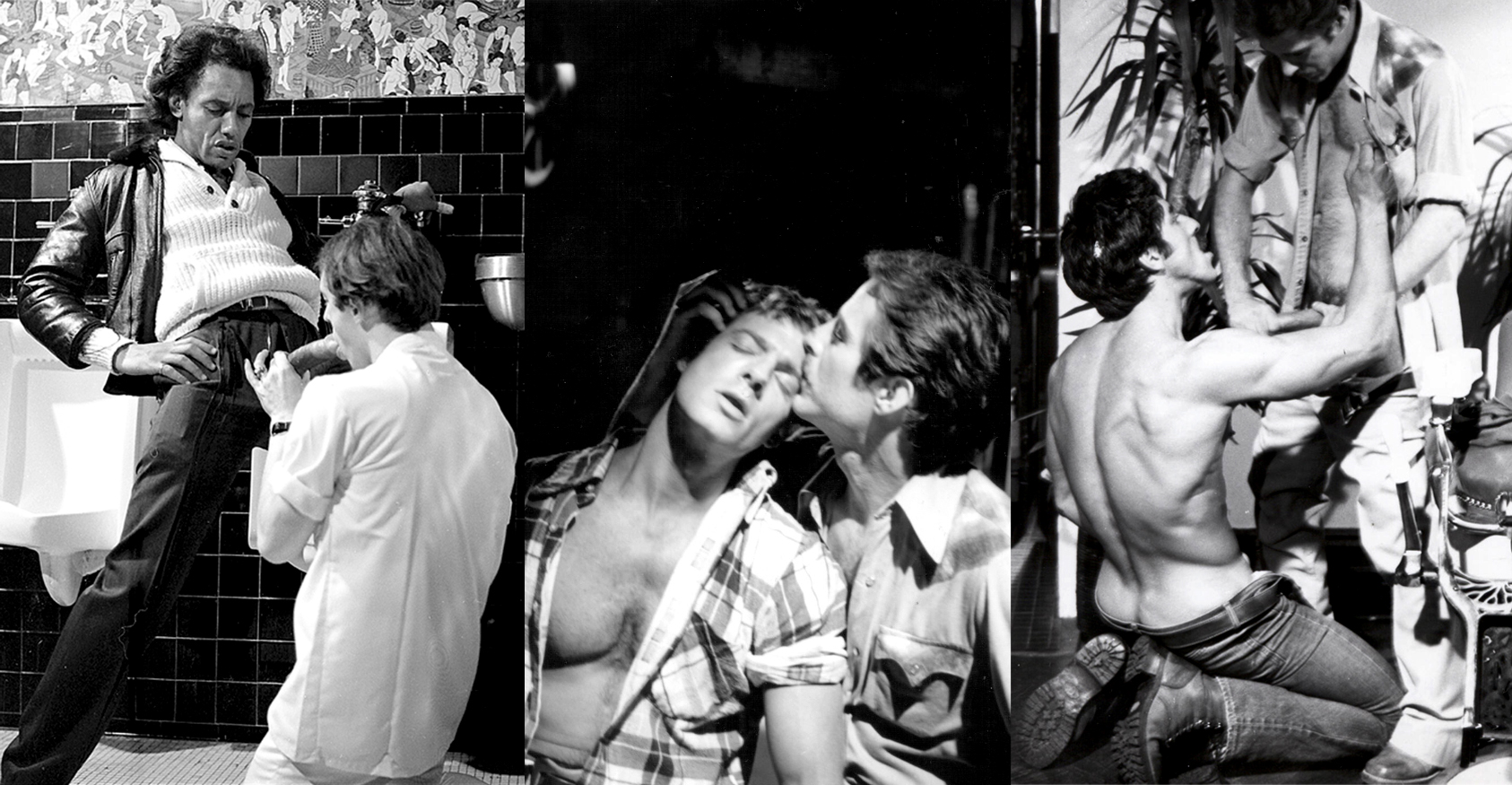 Geraldo, Jack Wrangler, Jayson MacBride & Malo in A Night at the Adonis (1978)
Jack wanted Hand in Hand's films to be well-executed and taken seriously by other filmmakers and by viewers. He was an early force shaping the newly forming genre of hardcore. His interview with Soho Weekly News contains some fascinating commentary on structure of the genre from Jack: "We came to an interesting idea about porno movies. We were looking for a while to describe the porno movie because it doesn't really relate to anything else. It is only starting to find its milieu, or genre, whatever you want to call it. It's a musical comedy, but now instead of singing, they fuck. Now that I've been able to make that generalization I think, well, are they going to sing a happy song now or a sad one? What condition is this character in? And then we try to structure the sex in those terms."

Robert Alvarez commented to Manshots that "there was a period there where there was a lot of magic going on. It's not ever going to be the same again. There was a period in porn filmmaking when there was hope that you could do something... You could do whatever the hell you wanted. You could be as audacious as you wanted. You were working on a very low budget. You knew there was a limit on how much you could spend. You had that much money to do something. Therefore you could do whatever you wanted as long as you had the required amount of sex scenes."

Hand in Hand amassed at least 40 films in their library, Jack directing many more through 1982 (Rough Trades, Hot House, Sex Magic, Dune Buddies, Fire Island Fever, Just Blonds, The Boys from Riverside Drive, and Times Square Strip), and they had plans to begin developing some non-pornographic gay films that could reach a wider audience.

Jack Deveau passed away on December 2, 1982 after a long battle with cancer. Strictly Forbidden and a second shorts collection with segments directed by Deveau, In Heat, (following Hand in Hand's 1980 shorts compilation, Private Collection) were released posthumously. The adult film industry changed considerably in the following years with the advent of home video and the decline of porn theaters. Hand in Hand continued to operate as a mail order business until Kees Chapman died in 1988, at which point Alvarez sold Hand in Hand's entire library to Bijou Video, where we still preserve and carry their films, available on DVD and Video on Demand. They are truly worth checking out and range from beautiful and artistic, to bizarre, to romantic, campy, sleazy, funny, thoughtful, surreal, sweet, clever, dramatic – all while being hot.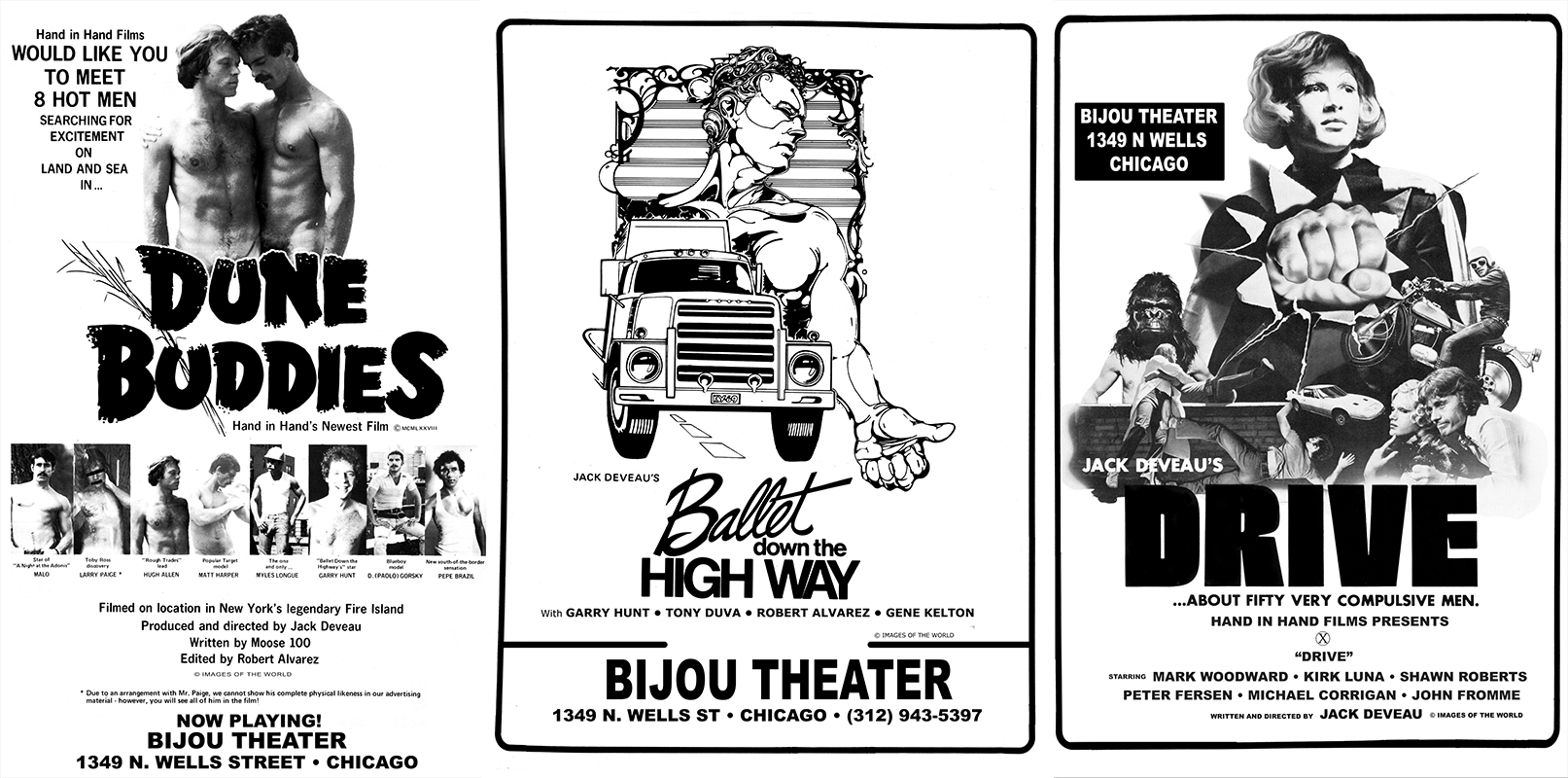 Vintage posters for Dune Buddies, Ballet Down the Highway & Drive
Jack had hope for the legacy of the films he produced and for gay films as a whole: "There are magazines in Europe who are devoting whole issues every other month to critiques of the erotic cinema. Eventually this will have to become a literature... There are many stories to be told, as people finally listen to and begin to understand the experiences of gay men and women. I think there'll soon be a larger audience for movies about the way gay people feel about themselves and how they interact with the rest of society. And from a purely commercial standpoint, gay people have been supporting the film industry for years. It's about time they started getting some feedback."

Alvarez also touched on Jack's notion of gay porn as recorded literature in his Manshots interview.

Manshots: What were his strengths that made his films so special?
Alvarez: Jack said what he wanted to.
Manshots: The fact that he made erotic films that said anything at all is a rarity.
Alvarez: Yes, I feel it's an unfinished story. I feel that there's more there than even I can comment on. One of the things that Jack always said was that "no matter what – this is recorded literature, or a piece of literature. You can be sure when you're dead that that piece of literature will be around." As long as the film negative doesn't deteriorate or the lab doesn't burn down, it's true. Whatever is there that he made is going to be there for a long time. Who knows what people will make of it – but it will be there.