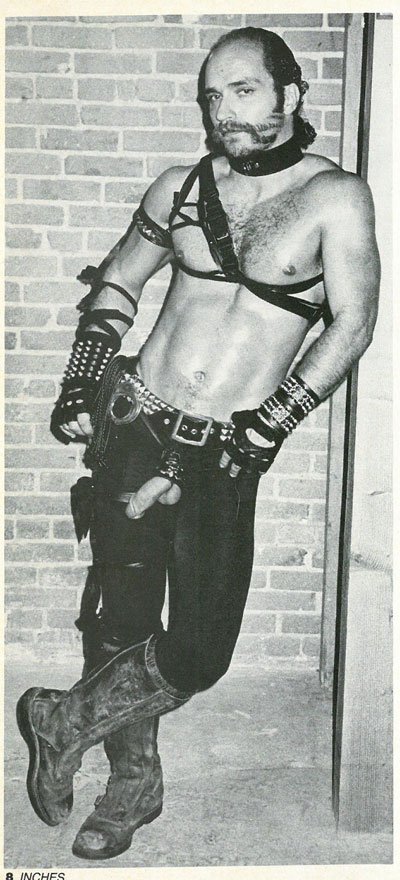 "His appeal is not easily defined; there are men who are hunkier, better hung, certainly younger. But none have that hypnotic gaze. And unlike so many others in the field, Slater can talk." – Frontiers, September 13, 1991.

John Duffy Slater appears in two of our Bijou classic movies, In Heat and Roger, but according to the source above, by age 36 he appeared in 150 films.

Interesting facts about him:

Slater had legitimate stage experience; he worked as a sound technician and an actor, though he has a master's degree in behavioral psychology from Fordham University.

He appeared in a major off-Broadway production, Short Eyes. He also wrote a couple of musicals, Zounds and Rodney Rocks and the Oral Fixation. The title of the last sounds particularly intriguing.

He got started in the whole gay porn scene while walking down Christopher Street in New York City. A photographer came up to him and said, "Gee, you wear the T-shirt well!" He then wound up on the cover of the gay rag Numbers. Lana Turner, eat your heart out; you had to pay money to sit at a soda fountain to get discovered.

J.D. then appeared in Joe Gage's film Handsome.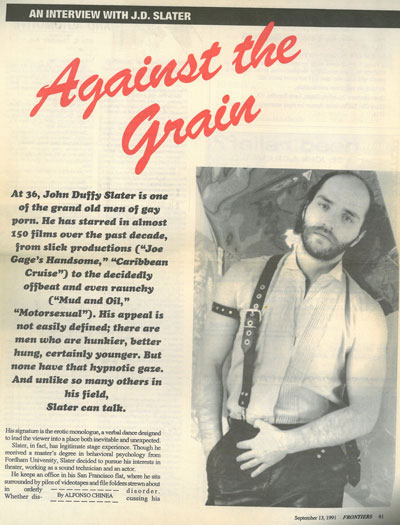 The last year he was in New York, 26 friends died during the AIDS epidemic, including the director Christopher Adler.

He specialty was the erotic monologue. He directed a film called Confessions Motoerwhere the guys had sex, and between scenes, the guys talked about themselves.

He was a drug addict, strung out on speed, but made a successful recovery.

He made a film about sexual compulsion, Motorsexual, the motor being the sex drive. Quite daring, I think, confronting head-on what the vicissitudes of desire and their relationship to the porn viewer who often watches what he knows he can't ever attain in reality.

He cast men in his films in their late 30s and early 40s, because they know how to have sex better. Bravo!

He also deliberately was interested in, as he said, "presenting an alternative to the stereotype of being 22 with a perfect body sitting by a pool." Bravissimo!
For the 1990 feature Guilty, he started his own production company, and nearly landed in jail when copies he'd shipped to England were seized and declared obscene.

People tended to see him as a top, but he got fucked in about 50 percent of his films. He did feel safe, post-AIDs, when they pulled out before climaxing, but "it was a big enough trial just to get them to get hard."

He recovered from testicular cancer which resulted in the removal of his right ball. The ball received a memorial service.

What a complex guy! He entices with his eyes, making you beg for more, but in the act of begging you are most satisfied. The connection is ultimately mental.

And he is totally comfortable in himself yet also something of a chameleon. His range is from the softest, slickest vanilla to the raunchiest leather.

I think I am in love.