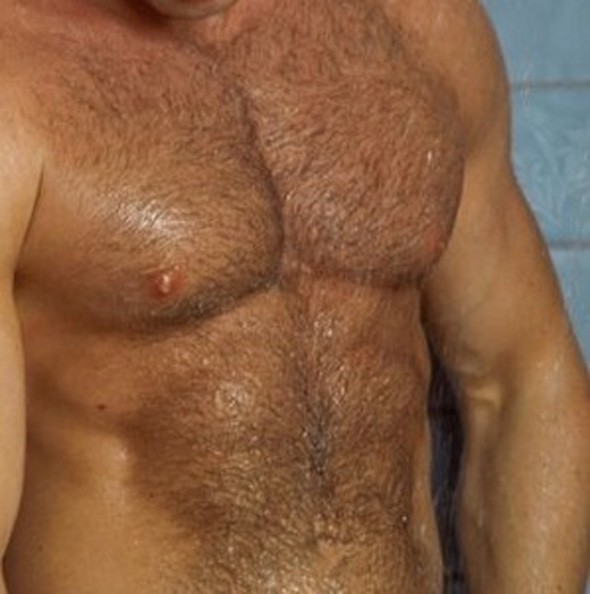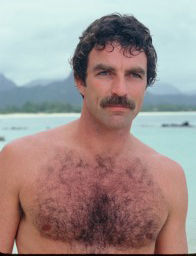 Everyone's favorite Jewish grandmother, the late, great Ann Landers, addressed practically every type of sexuality and gender issue in her column ranging from masturbation to makeup for the older woman. Yes, and she even discussed hairy chests in response to some letters on the subject. The Ann Landers Encyclopedia offers a couple of interesting responses to what many argue is a fallacy: that a hairy chest means you are a more sexually active guy and perform better in the bedroom. (Kind of like the big dick fallacy, perhaps?). A reader wrote in claiming that a hairy chest means more female hormones (no source) and that the hairy-chested male would produce more girl babies. Dr. Frinkel, a medical authority on the subject from Northwestern University, responds that this is another fallacy. Got it? A hairy chest does not mean you are necessarily a more manly man!
So, if a hairy chest doesn't necessarily mean you are more virile, why the fascination with chest hair, even to the point of being a fetish? I think it has something to do with about the overall sexualization of body hair, both male and female, throughout the ages. In the Bible, how did Delilah manage to seize Samson's strength? She cut his hair. Now, Samson made a sacred vow as a Nazirite to not cut his hair. The hair is thus at the level of some kind of taboo, forbidden but also sacred. And the dangers of hair apply to women too. Orthodox Jewish women have to cover their hair with wigs (in some Eastern European communities, they even shaved their heads), because their hair would be too tempting to men.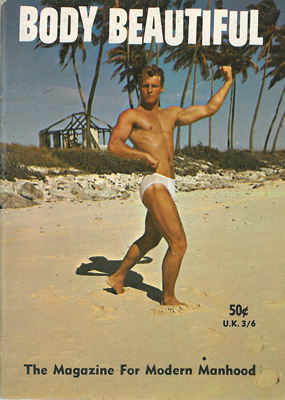 In the more recent past, while going through some vintage muscle magazines from the 1950s, it's obvious that bodybuilders, supposedly the epitome of masculinity as they frolicked on those California beaches, shaved their chests. Why? For practical reasons, to show off their muscles which were usually oiled, as well. But also, I wonder if the sight of all the hair was viewed as something too overtly sexual. In fact, in the 1950s, if a man grew a beard, he might be accused of being a Communist or some other type of social subversive.
More to the point, in the movie Samson and Delilah, Samson, played by Victor Mature, sports long hair, but his hunky chest doesn't really sprout much of a forest.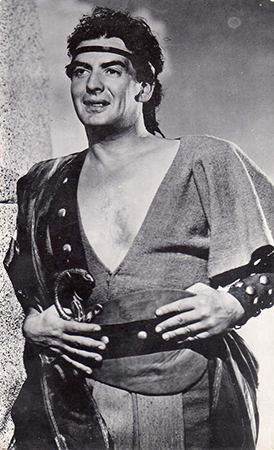 The sixties changed all that. The long-haired hippy look moved into a hypermasculine look and seventies macho, and more specifically, gay macho was in.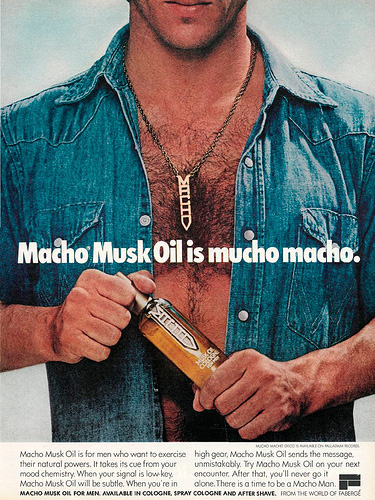 According to Martin P. Levine in his book Gay Macho, "the erotic ideal resembled the Marlboro man or Tom Selleck. Hot men, for clones, were hung, built, and butch … ruggedly handsome, with a mustache or trim beard and short hair ..." Levine does not mention a hairy chest, but many of these guys definitely let their hair grow in that area. I think specifically of the gay porn idol Bruno, with his furry chest and overall butch looks.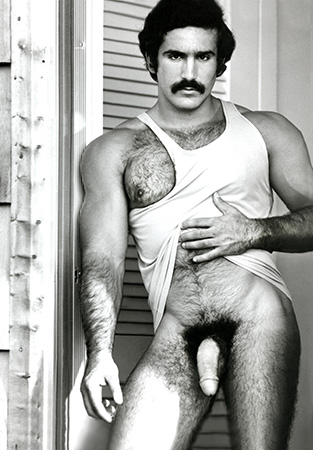 Since the seventies, has the hairy chest among the mainstream gays gone out of general circulation? Or has it kind of become a novelty fetish, part of the subculture of bears? I wonder, based on a craiglist ad recently posted in missed connections, where a young twink was astounded by the hint of hairy chest present on another young guy! Perhaps this development might have something to do with the blurring of gender identities overall, where women look like Justin Bieber (or vice versa) and men wear skinny jeans and go to spas.
I don't disparage these trends at all, but rejoice in their flexibility and diversity of expression. But that doesn't mean a guy should be afraid to show off his fur.
As John Rutherford, founder of Colt Men (which outfit has produced several calendars with hairy-chested studs), says, "Well, there is one characteristic that brings us all back to our very first fantasies of a hot, ubermasculine man - it is a nice hairy chest … One that is just hairy enough for you to run your fingers through." Woof!