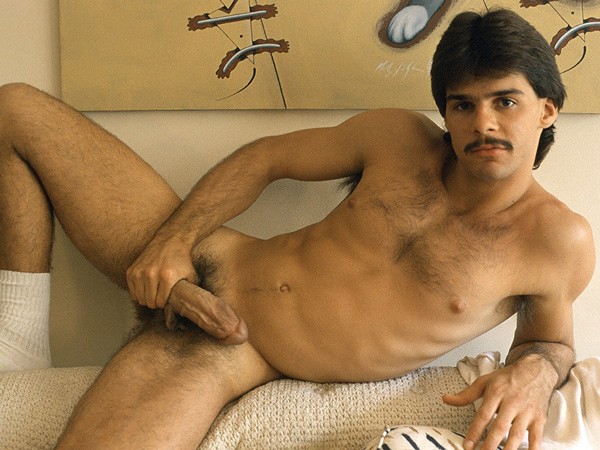 Jon King looked like this totally straight guy named Frank I had a crush on in college who was a double English/Philosophy major. Both Jon and Frank shared the thick black hair and deep dark eyes, the tight muscular ass, and that indelible combination of ruggedness and vulnerability. I don't know what happened to Frank, but what happened to Jon was unfortunately the fate of so many stars from the golden age of porn.
Born John Nelson Gaines in 1963, he died of complications from AIDS when he was only 32.
What I found interesting, after doing some research, is that he actually got interested in porn by watching Jack Deveau's Hand in Hand films. He even sent Jack some pics of himself (Jack turned him down). Jon then moved to California with his lover. In a kind of Boogie Nights type of scenario, Jon picked up a guy cruising who was a model who had an appointment later that day with a photographer. Jon tagged along to the interview, and bang, he was on his way to becoming an adult film performer.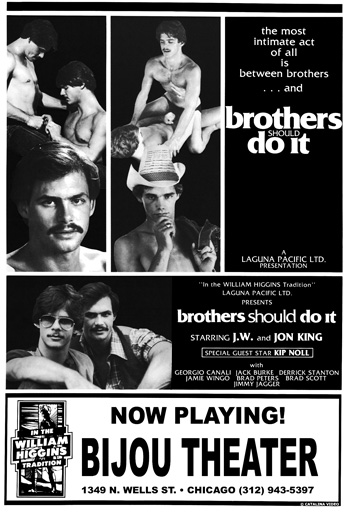 His first film was Brothers Should Do It, billed as Jon King, the younger brother as J.W. King. They looked like brothers, but they weren't! He then made a some films for Kristen Bjorn, but in 1982, he wrecked a car, and spent eleven months in prison. He made a comeback in 1983, making such hot titles as Below the Belt, Screenplay (with Lee Ryder, see image below to your right), The Biggest One I Ever Saw (with Ryder and Rick Donovan), and Kip Noll Superstar.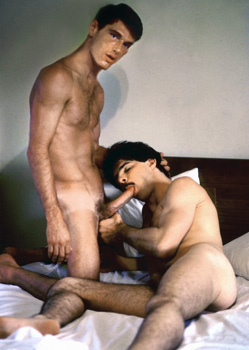 He retired from the business in 1989, moved to Atlanta, where he attended culinary school. Apparently that endeavor did not work out, so he made a second comeback, but by that time he was suffering from AIDS. He moved to Santa Fe to be cared for by a friend and died in March 1995. Jon was cremated, and his ashes were mixed with those of his dog, Bucky, had been run over by a car two weeks before.
These are the facts, but when reflecting upon them, I can't help but thinking of Boogie Nights and some of the struggles the characters (and not just Mark Wahlberg as "Dirk Digler") faced in that movie, especially trying to find some kind of more lasting happiness both inside and outside the adult industry. I'm pretty sure Jon was happy making the movies of course (and it shows in the sheer joy of his sexual energy), but, to fall back on cliches, fame and youth are terrifyingly fleeting, even if AIDS was not a factor, and the transition out of any type of performing life often doesn't work out for so many people (and not just porn stars).
Jon's place as a great porn performer (he's officially a "retrostud" in many circles) is assured by the movies he made, but will anyone remember his sweet, loving nature as a person both on and off the set? Even Jon himself often said, in response to being recognized in public, "I just want to be myself."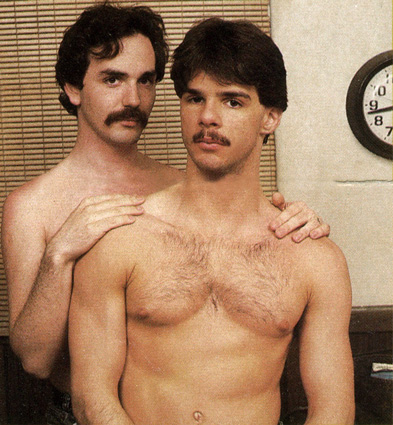 Bijou Video carries many Jon King titles.
Check them out as part of your summer fun!
Jon King and Daniel Holt in Giants 2