posted by Madame Bubby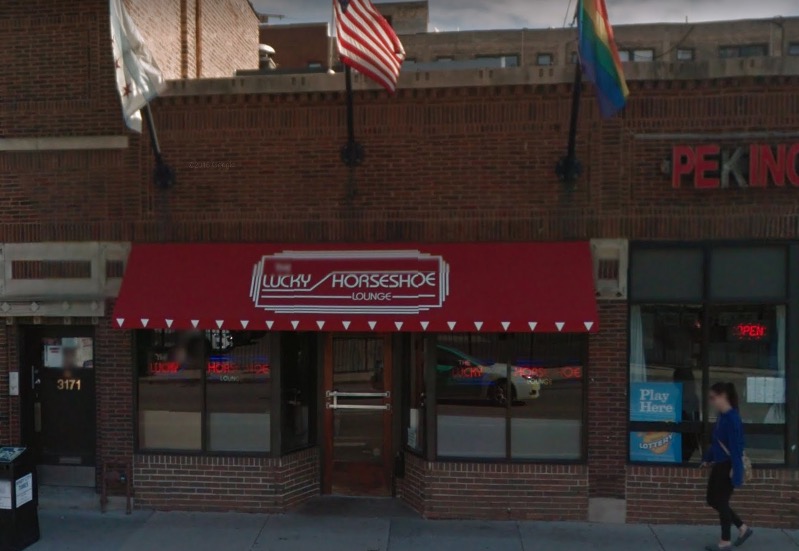 Yes, it is still there. I had to ask, especially now that that the area around it is gentrified and homogenized in so many ways since the last time I was there, early 1990s.

Why was I there? The Lucky Horseshoe Lounge, known to its regulars as the "Shoe," is a gay bar yes, but one that features dancers. Not strippers (no nudity), and they usually are already stripped down to something skimpy that barely covers up the cock.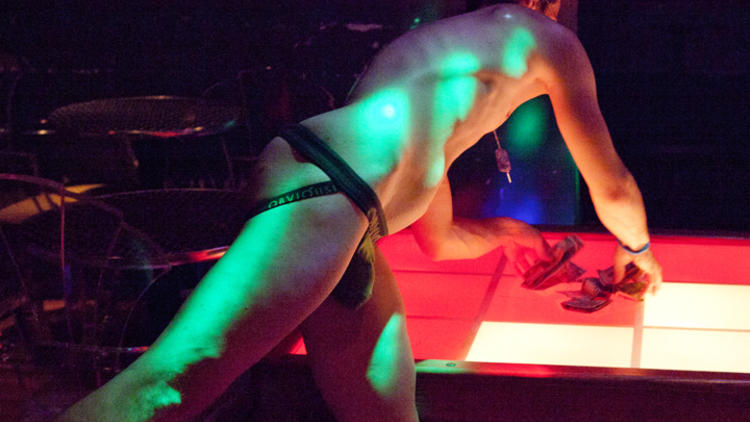 Jason Heidemann, a while ago, wrote a piece in the Chicago Reader describing his experiences in detail, and he also makes the point that the place actually seems to be evoke a feeling of "shame-based resistance" for many gay guys. Like, oops, why are you there? What's really going on with you? Or even, in an online exchange, a LOL.

It's an exotic dance club, and I am thinking perhaps there could be a couple underlying cultural stigmas. First, the whole go-go girl men's club business that caters to heterosexual men contains some obvious structurally exploitative/misognynistic dynamics. Whether this dynamic strictly applies to what goes on gay male strip clubs is open to question, and I also think it ties closely into the stigmas associated with sex workers in general.

Secondly, in the gay community itself, there's a stereotype that the types of customers the place attracts tend to be "dirty old men" desperate for copping a feel on a young, lithe body. Heidemann makes the point that the place for many couples serves "as a compromise between one partner who wants monogamy and the other who has an insatiable libido."

That dynamic reminds of me of my experiences there in the early 90s. I was involved with the LGBTQ Catholic group, Dignity, and I sang tenor in its amateur choir. After church, the choir director, the priest, one religious brother who sang in the choir, and whoever else wanted to tag along, hit the Shoe. (In fact, we were at the Shoe when the Bulls won their famous "threepeat" game!)

It turns out, that Sunday night at the Shoe was called "priests' night out." One could say that in many cases, sticking dollar bills in the lush baskets of the dancers was a way of not literally violating a promise of celibacy or a vow of chastity. The choir director I think just liked the dancers, a lot, and I also think, because he was partnered, he would hang out there to "blow off steam." (I'm not sure if he ever hooked up with one of the dancers, but I vaguely remember hearing he did invite one over to his house.)

I must admit, most of the dancers were too thin, smooth, and "twinkish" for my taste, but one night, an anomaly. A particularly beefy muscle guy wearing heavy boots appeared, and I was smitten. I not only got to touch his basket, but we even made out a bit. We had one date. He worked in sales at Marshall Fields full time, days. In real life gear he looked much less imposing. Too "nice" for me, alas.

And I did hook up with a real hot number, beard, blue collar, cowboy boots, there one night, an out of town guy on a conference. A weekend romance ensued. I looked him up on the internet. He is still working at the same job he did in the 1990s. He looks older and grayer. It happens to everyone, even the dancers.

Overall, I'm glad the place is still there, and given its longevity, I gather it has probably adapted to the bachelorette party culture, which has created some controversy lately in gay male bars. In fact, given the vicissitudes of social and cultural change, it's perhaps an even more unique space that still keeps the dancers dancing and a diverse array of customers coming/cumming.