posted by Madame Bubby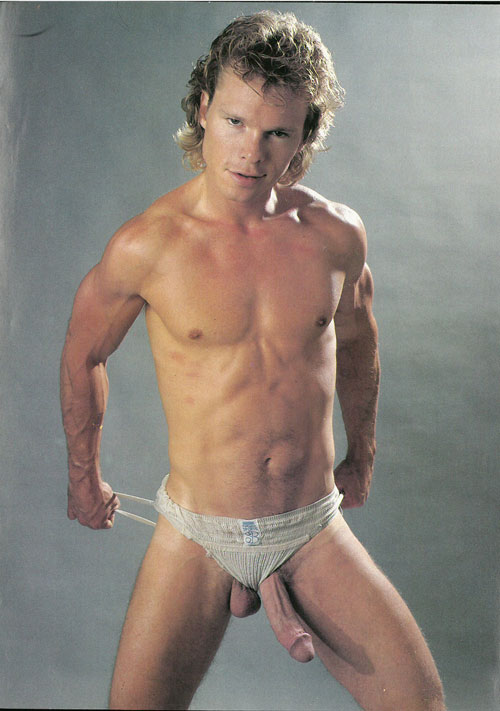 "He always brought class to his shoots." – Josh Thomas, "Gay Spirit Diary"
His hot hung blond self was everywhere, and here he still is at Bijou Video, appearing in a stunning repertoire of films: Philip St. John's Getting It, Nova's stunner Heroes, LeSalon's supersexed Cabin Fever, and our new release Tough Competition, among others.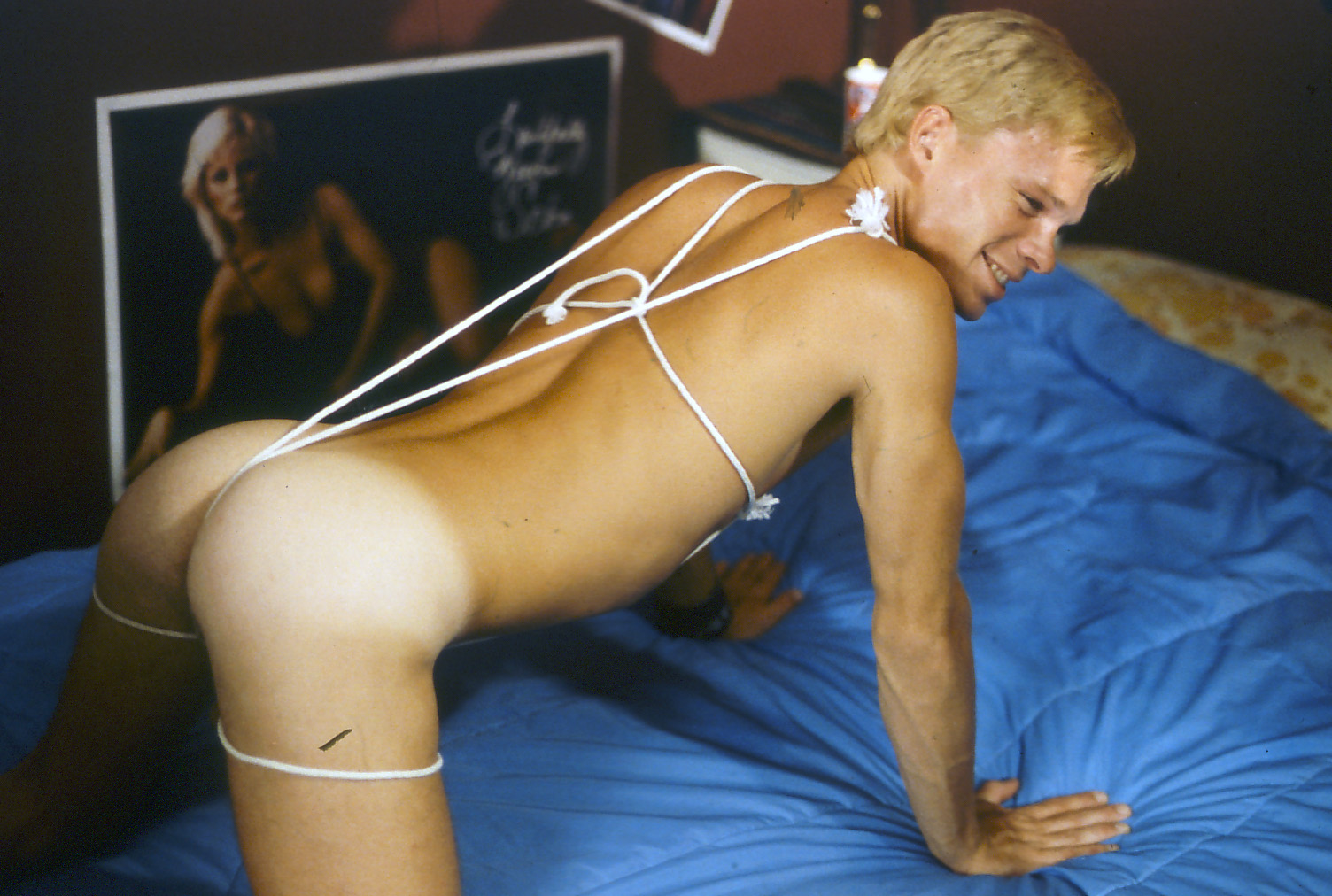 Jim Bentley in Getting It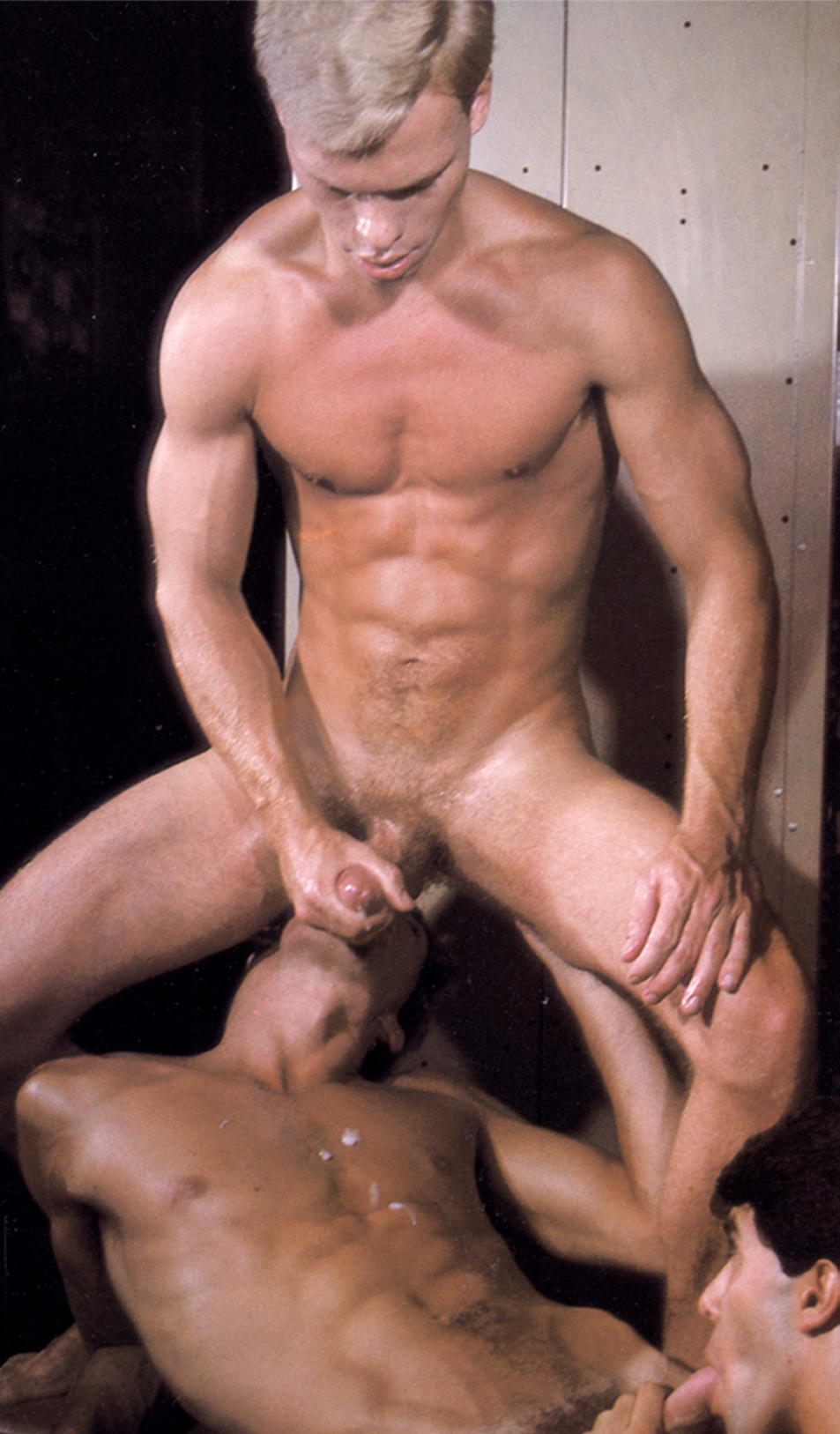 Jim Bentley in Heroes
Though physically he embodied the Falcon Studios ideal of a gay porn stud, he was no cardboard figure. Interviews from the period reveal a likable person with a healthy, tongue-in-cheek sense of humor and a refreshing honesty.

Some tidbits from an interview in Male Review:

What's your favorite color?

I like electric blue, it's more modern. Beautiful!

(Someone on our copy of the interview wrote a snarky Who cares? Well, one has got to start somewhere in an interview.)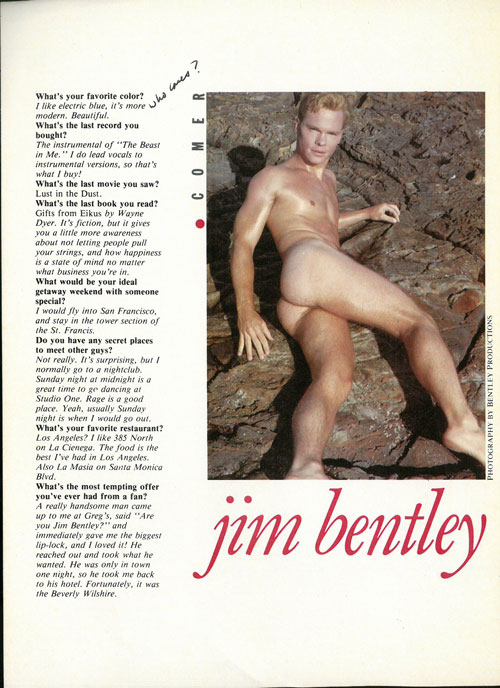 Male Review interview
What was the most tempting offer you've ever had from a fan?

A really handsome man came up to me a Greg's, said "Are you Jim Bentley? And immediately gave me the biggest lip-lock, and I loved it! He reached out and took what he wanted. He was only in town one night, so he took me back to his hotel. Fortunately, it was the Beverly Wilshire.

Who is your fantasy co-star of the existing porn stars?

I have a new discovery that I'm about to release to the world …

Let's say somebody who's already active though.

I'm usually the top, but I'd like to have someone just take my ass down on screen, I'm not sure who. It's a difficult question to answer. I'd say Al Parker.

Do you show your own tapes to your friends?

Yes, I see it first with a friend. I never watch it alone. I have a couple of friends who will tell me the truth.

Do your films turn you on?

It's hard to look at myself on the screen at first. Eventually, it swings around and becomes erotic again.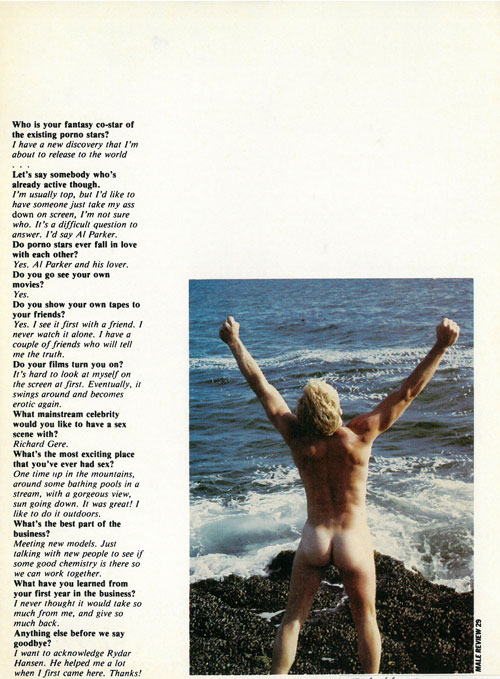 Male Review interview
And from Inches magazine, here's another fun fact: He used to sell figs for living. Yes, figs, of all fruit, a Biblical one!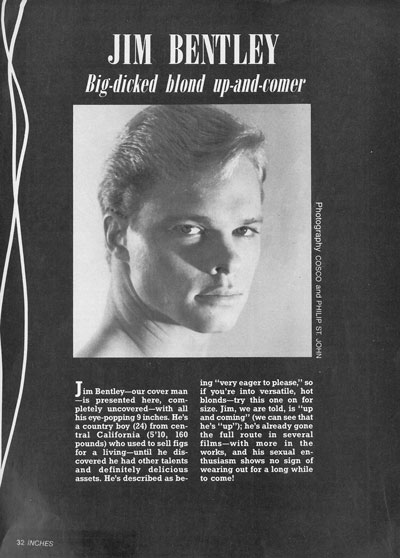 Inches magazine
He went from figs to bigs, that is, being one of the bigs in the gay porn world during a exciting and frightening time: a gay sexual liberation, revealed in well-produced, well-acted films that revealed the power and beauty of gay sexual expression; and, simultaneously, the AIDS crisis which would decimate the actors in those films.

Where is he today? He did not die like so many of his generation, but lived, according to Josh Thomas at this source, to write an autobiography, The Last Time I Drew A Crowd.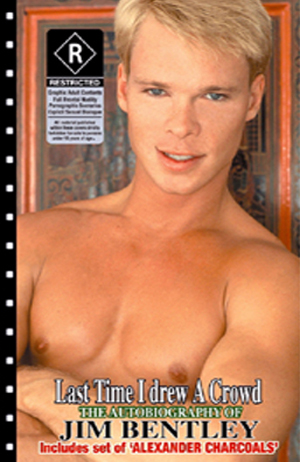 According to the source, he is raising figs again.

His movies available at Bijou Video still, many years later, raise dicks.