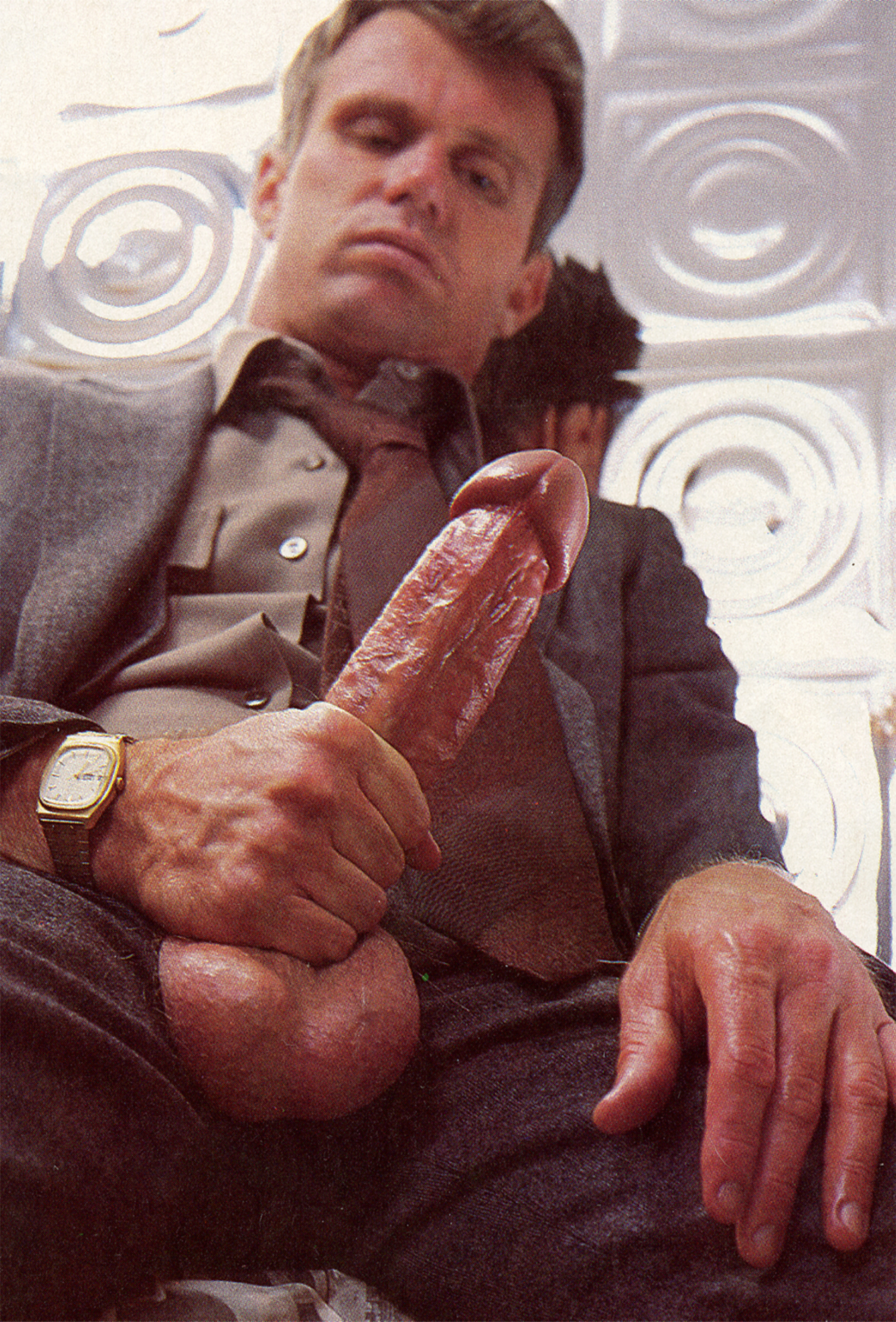 Connoisseurs of retro gay porn are perhaps familiar with Dave Connors because of his starring role in One in a Billion, enjoying his big balls and big dick. (In fact, I can't think of another stud's privates who one could so aptly call "meat.") In the movie, big businessman Dave can magically hear what others are thinking, which add some flavor to a day of kinky adventures. All seem to want to taste what is really magic, his meat.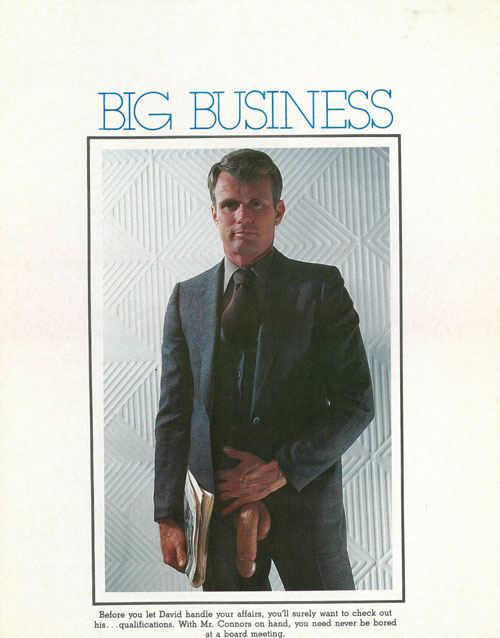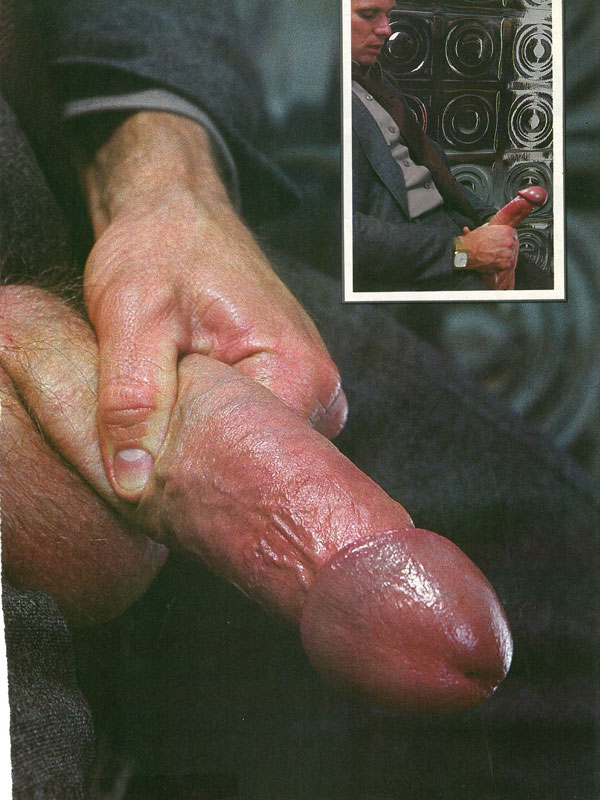 Art can reflect reality, and in an interview for Stallion magazine, Dave jokingly admits there are disadvantages to being "super hung:"

Connors: People have used any ploy and every ploy to get me into bed.
Stallion: How did they find out about what you were packing?
Connors (laughing): People talk! It's not something I can keep secret.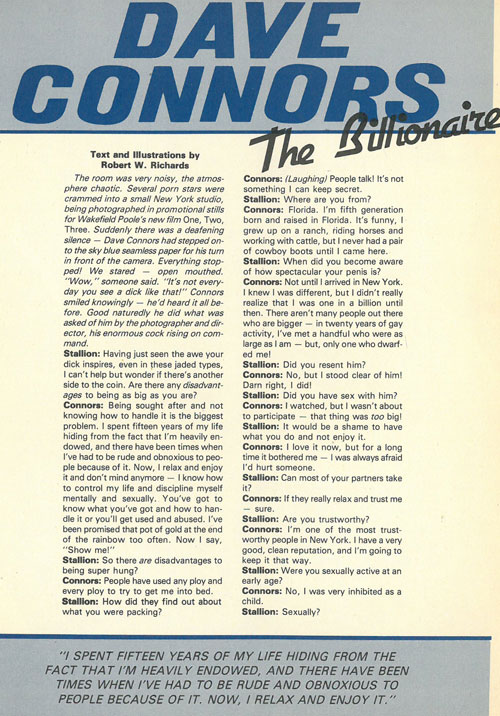 According to the interview, Dave was born in Florida, and he was inhibited as a child. He came out at the ripe old age of twenty-one:

"I finally came out at twenty-one in the Marine Corps. I had a lot of friends – and I could never understand why now, I know, at least I know what I missed – although I did have some very nice encounters in the service."

But the path to pornhood was not smooth for Dave, as he claims he lost that Marine-induced "self-discipline" to drugs, and then gained it back in prison. Yes, prison.

By the age of 39, Dave had already made several porn movies, but he claims his experience in One in a Billion was enlightening, as it was his first experience with sync sound. And Dave did not have to lie on the casting couch to obtain his meaty part in that movie; he asked Al Parker, Parker had an idea, and voila!

Now, for a country boy from the sticks of Florida who looks like naturally strong, like he could wrestle a couple of alligators, he certainly fills out a business suit well. His career climaxed in the yuppie eighties, and in some ways he embodies that look: clean-cut, chiseled jaw, a "dirty blond" with just a hint of bad frat boy now grown up to dominate board rooms.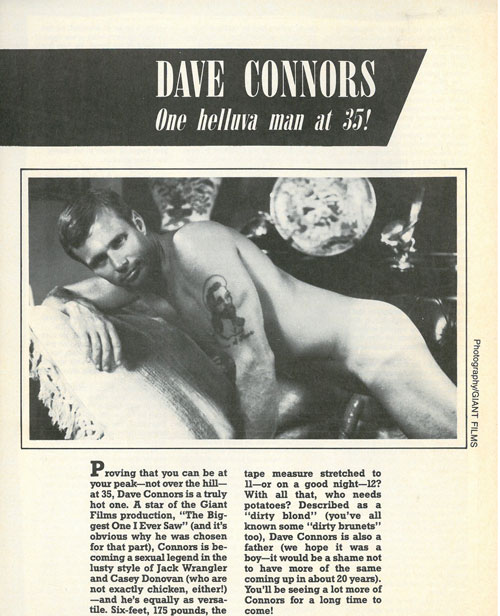 Some of the more famous films he made include The Biggest One I Ever Saw by Giant Films and Dirt Bikes for Falcon.

Tragically, at the time he was shooting what was to be his last film, Wakefield Poole's One, Two, Three, Dave succumbed to AIDS.