posted by Madame Bubby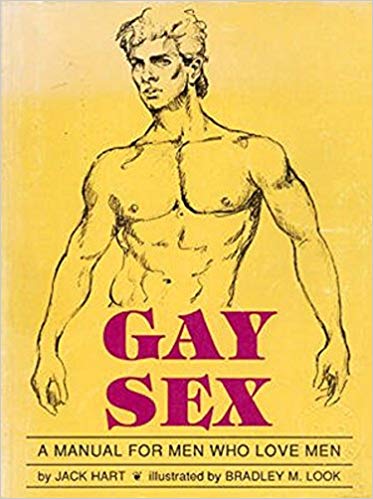 In 1991, Jack Hart published a book Gay Sex: A Manual for Men Who Love Men. Now, given the conditions of the time, when AIDS was still killing so many gay men and the Religious Right still holding power in a post-Reagan political and social climate, the book is both timely and groundbreaking.

By that time, safe sex was the norm, and I think the book reflects the want and the need for sexual activity that doesn't always end in the ultimate, and to be honest, at that time, deadly fuck.

The book is divided alphabetically, and most significantly, it just doesn't cover mechanics. It covers the complex thoughts and feelings that both cause and affect sexual relationships. It assumes a freedom to explore gay sex and perhaps find love.

For example, the letter L is divided into these categories: labels, leather, legal matters, legal trouble, loneliness, love, love at first sight, and lubricant. Those categories certainly cover a wide range. In this case, one could even claim the L section really covers life at all levels.

Here are some helpful and insightful quotes that transcend time from that section:

"Labels… The fact is, labels are useful. Without labels, we could end up at the Irish parade instead of the Gay and Lesbian Parade. Just don't let labels get the upper hand. At one point in your life, you probably assumed you were straight. That label, however unconsciously it was adopted, limited your ability to explore your attraction to other men. You may now identify as gay. That's fine, but if you find aspects of your personality that don't fit that label, it's the label that should be redefined – not your personality."

"Legal matters… Sign power of attorney agreements, providing the authority to make the decisions and sign documents for one another should one of you become incapacitated. It's important to have a will, and also a Living Will, which indicates what you want done if injury or illness leaves you unable to indicate your own desires."

"Loneliness… The best antidote for loneliness is not finding a lover, or a date, but in doing things you enjoy, with other people, and through that, finding some new friends. Unfortunately, no one will ever believe this basic truth from reading a book. Some spend years learning it the hard way, and others never learn it all."

"Love at first sight… There's nothing wrong with that feeling. It's enjoyable, and psychologists have even come up with the term limerence for that swept-off-your-feet sensation. But if you assume that a relationship has to start that way, you'll miss some good opportunities that simply don't announce themselves quite so loudly."

"Lubricant… It's best to use a lubricant that comes from a tube or squeeze bottle. Anything in a tub or jar easily becomes a repository for germs, as your fingers dip in and out."

Now, based on these quotes, one might think, yeah, we know, and we've come a long way since then. Perhaps in some matters, especially social and legal rights and recognition, but the complex feelings and actions that feed into one's variegated social identities remain, transmuted as their context transmutes.

In fact, one could even claim that labels and loneliness have taken on even more complex, and perhaps, problematic dimensions in a life that now encompasses both cyber and physical space. There's much more going on than choosing the right lubricant which can now be delivered to your door in a few hours for the hook up you scheduled on Scruff.

Perhaps the key words here also begin with the letter L. We physically lost a generation to AIDS. Let's not socially and psychologically lose a generation to labels and loneliness.