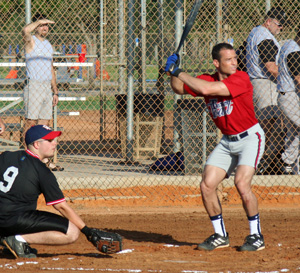 As in most sports, my youthful experience was negative or at least ambiguous. Perpetrating the stereotype that lesbian or "masculine women" and nuns (often equivalent in many eyes to lesbians) play softball, the principal of the Catholic school, the formidable pantsuit-wearing Sr. Judy was obsessed with softball. She claimed I was not playing with enough enthusiasm (she wielded the same accusation during volleyball practice), and I was banished to right field. I purposely let the ball hit me when it flew toward me, and I was banished to the sidelines. And I thought softball would be easier than baseball, because the ball was bigger and softer and supposedly easier to hit and catch. Oh well …

Fast forward several years later, and a work friend told me her easygoing, sports-loving husband saw a group of guys near the lake playing softball. He, like many (or most) straight males, was socialized to join guys playing games outside, and he asked if he could join them. He played with them for a while, really enjoying himself, but after a guy patted him rather too enthusiastically on the ass, he realized he was playing with members of the local gay softball league. He was not homophobic about it, but he was just surprised. Or maybe just a tad homophobic, perhaps, because he was subscribing to the stereotype that gay men did not play sports.

Instead, lesbians did – especially softball. This stereotype persisted, even as recently as the time Elena Kagan was nominated by President Obama to the Supreme Court. The Honorable Ms. Kagan was not married, and she played softball. Therefore, she must be lesbian.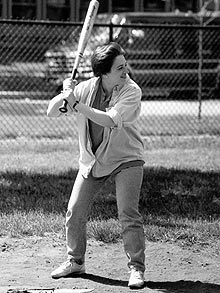 Elena Kagan playing softball
And around that time, in an article in the New York Post, the token straight gal (gay teams have rules limiting the number of straight players) on an all-lesbian softball team, says (I don't think she was being homophobic, but I wonder) that her teammates were "so husky you might wonder whether they have a beard to shave." Yikes. And she says one teammate offered her a toaster to "switch hit." (What brand? I might do it for a four-slot Kenmore that takes bagels.)

It's a shame that stereotypes obscure the truth about these leagues, that "LGBT sports clubs and events provide an opportunity for individuals to experience a sense of pride, a safe and welcoming environment, and feelings of belonging to the larger gay community" (Sara Mertel in her dissertation on the sociology of an LGBT softball league, summarizing an article by Elling, Knoop & Knoppers). I consider these leagues comparable to the gay chorus movement, which has allowed gay men to teach and learn as musicians on both amateur and professional levels in an inclusive environment. Talent is talent, art is art, but in this context, they become vehicles of liberation and, some might, argue assimilation.

In fact, in the early heady days of gay liberation, gay and lesbian softball leagues sprang up very quickly, beginning in San Francisco in 1974 with the formation of the Community Softball League, which eventually included both women's and men's teams. These teams actually competed against each other and, quite telling, against the San Francisco Police softball team (quite a revolutionary moment, to say the least, given the history of victimization by the police).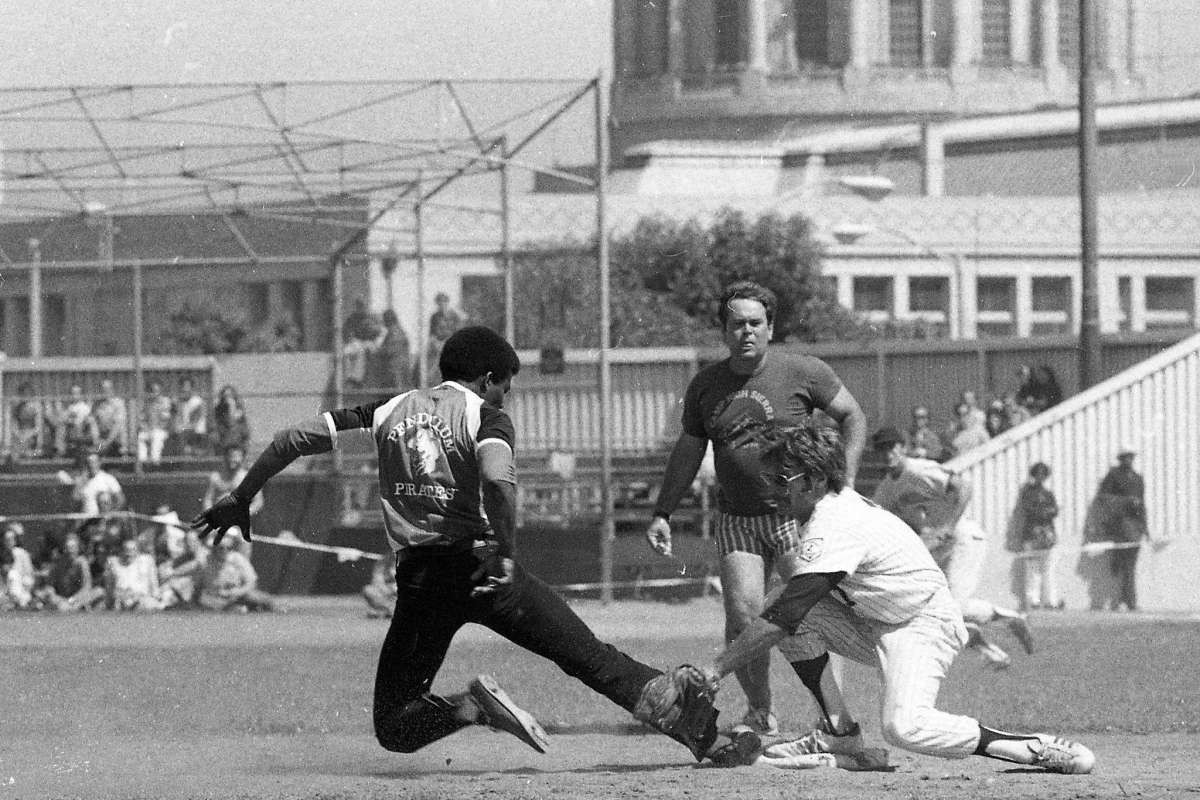 Gay team vs. police team San Francisco softball game
In 1978, an international organization called NAGAAA (North American Gay Amateur Athletic Alliance) was formed to govern the many leagues participating in gay sports. According to a piece in Outsports, this organization was a realization of the vision of Chuck Dima, a New York bar owner, who orchestrated a tournament where the gay softball teams from San Francisco and New York played each other. The first women's team competed in 1979. Today, the NAGAAA incorporate 41 individual softball leagues, and hosts the Gay Softball World Series, first held in Los Angeles in 1980.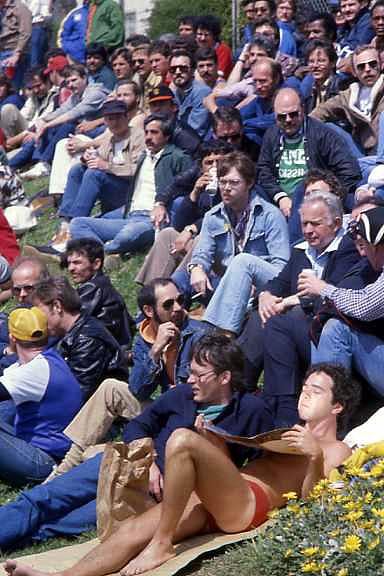 Gay softball game in San Francisco, 1977
Now, ironically, the gay softball world faces another challenge, and it's not the holy haters. In 2011, three guys on their gay softball team sued the NAGAAA after they were determined to be non-gay (one was apparently bisexual), and their team was stripped of its second place finish. The National Center for Lesbian Rights backed the men. The Court upheld the straight limit, dismissing the discrimination claims. In the settlement, the players were reinstated and their second-place finish is now fully recognized, while NAGAAA maintained the Constitutional right to limit the number of straight players on a team.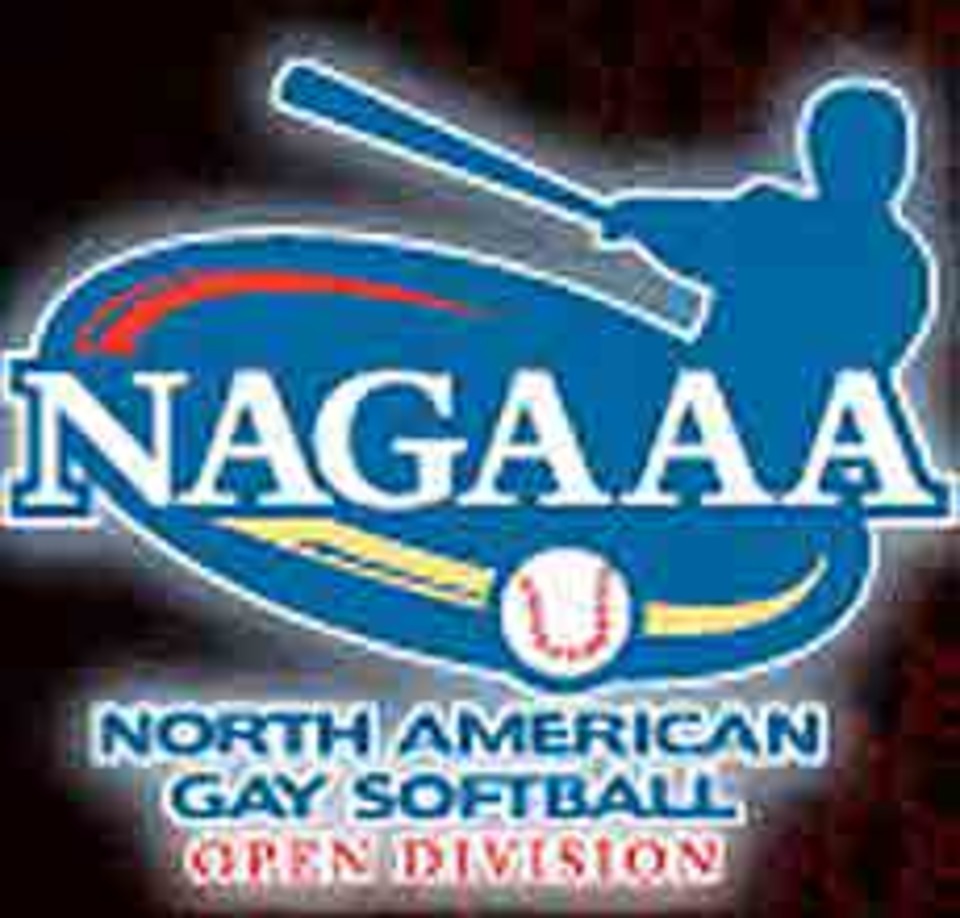 There's the tension: assimilation and identity in a world that doesn't just tolerate LGBTQ persons, but even sees them as exemplars of strength and talent. I don't think I will go out and join a gay softball league (I might get banished to the benches too based on my skill level). But I would certainly watch, and not only the softballs. Or maybe, just maybe, the hot young studs would let me be the "water boy" … hmm …