I was looking at some footage on YouTube of Chicago in the 1940s (my nostalgia kick keeps kicking and kicking and kicking, ouch!), and I noticed, as most of the footage was of tourist sites like "State Street, that great street" and its plethora of movie theaters.

And these were not movie theaters hidden inside in decaying malls or bland multistory cineplexes with parking garages, but both glitzy and palatial structures (quite a combo!) that beckoned to passersby (yes, people walked more, it seems, to entertainment) through signs.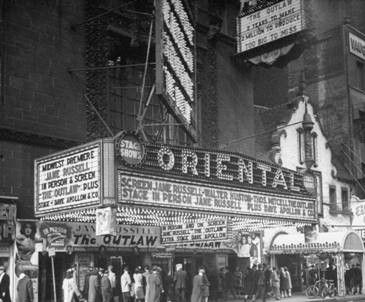 Chicago's Oriental Theater in the 1940s showing the Jane Russell film, The Outlaw
Yes, the marquee, the name in lights, oh so Old Hollywood. In fact, on one of the videos, I saw theaters whose marquees displayed Leave Her to Heaven with Gene Tierney, and on another one, Joan Crawford in A Woman's Face. Heady stuff for a gay Old Hollywood fan!

The adult movie houses, and in the gay world, often called porn palaces, followed suit when censorship restrictions were lifted in the wake of the 1960s sexual revolution. Even though such venues were usually ghettoized "red light" districts (think 42nd Street in New York City) and often shared buildings and neighborhoods with the seedier peep shows and massage parlors (live sex, less cinematic content) and the like, they still boasted the marquees and the names in lights.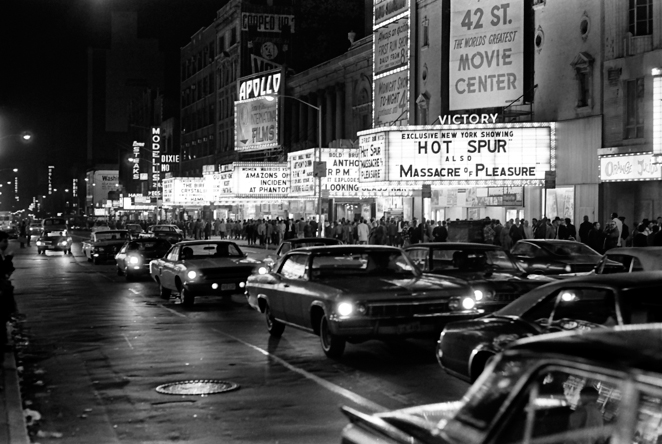 42nd Street theaters in the 1960s
In fact, I remember in the camp classic Valley of the Dolls, Neely O'Hara sees her friend Jennifer's (now a star of soft-core French porn) name lighting up that ubiquitous XXX signage as she wanders drunkenly through what is probably the Nob Hill area of San Francisco.

Gay XXX's home in Chicago was the Bijou Theater, and in its heyday, it showed some of the famous, finely crafted classics of gay porn (shot on film, of course). A premiere there was akin to a red carpet event, like it was in Old Hollywood.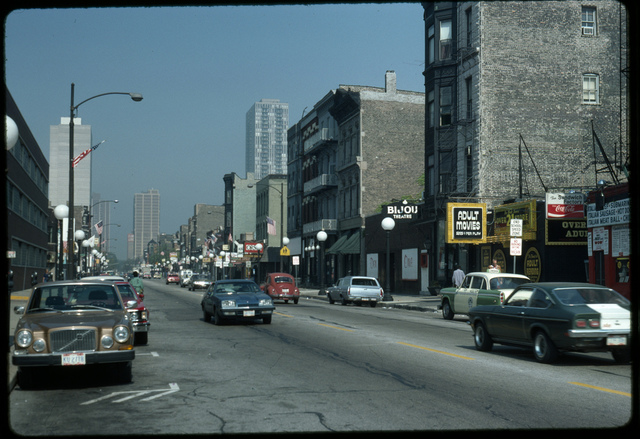 The Bijou Theater, 1976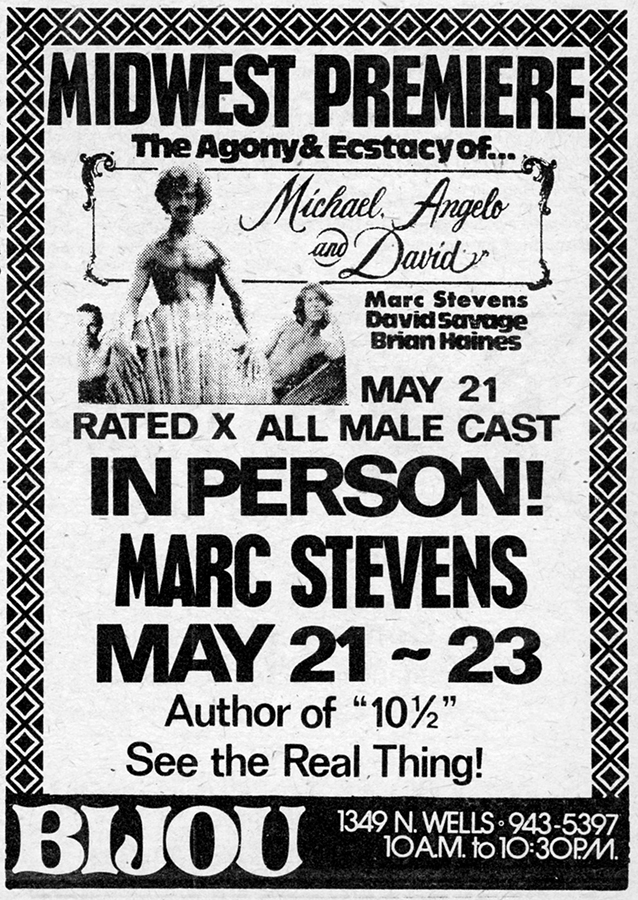 Bijou premiere of Michael, Angelo and David & live appearance by Marc Stevens
Porn studios like Hand in Hand Films and Falcon and, later during that Golden Age, Al Parker's Surge Studios were definitely producing more substantive work, but the assembly-line, amateurish product with mostly anonymous participants (like that being churned out in Europe these days) were confined to peep show booths.

The Bijou Theater thus showcased some groundbreaking gay porn films, but in tandem it also showcased the stars of those films. Again, think Old Hollywood. Fans, autographs. Stars!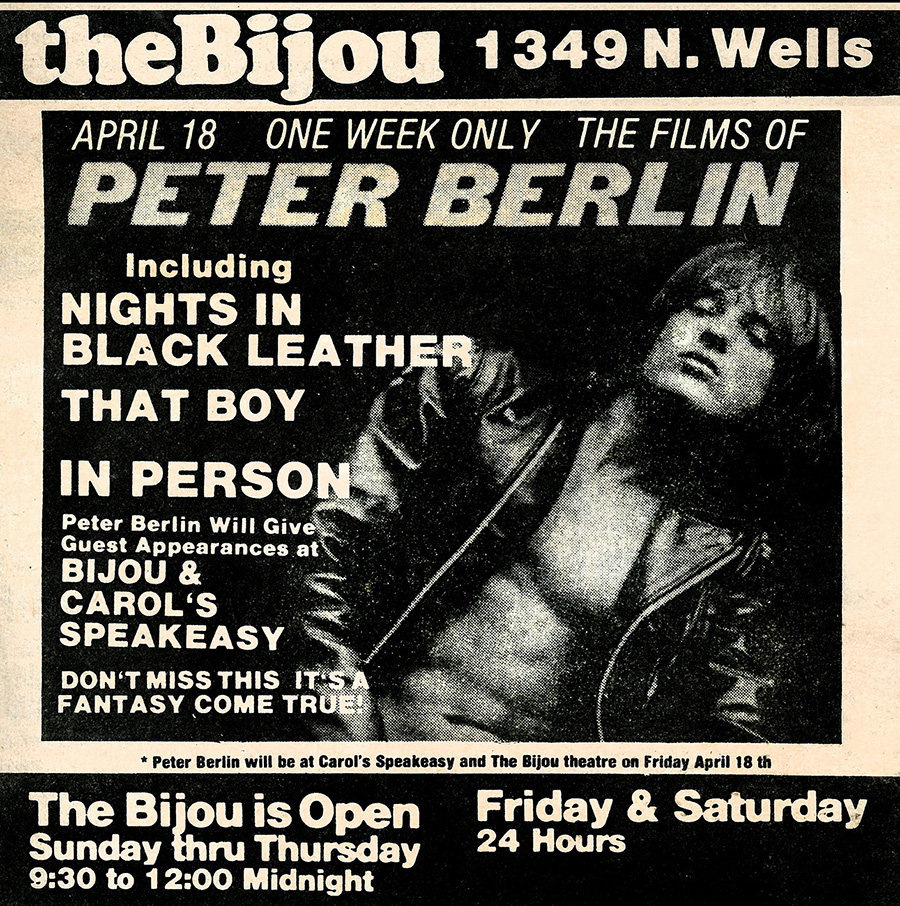 Live apperance by Peter Berlin at the Bijou Theater
For example, when Al Parker, the greatest of them all, appeared at the the theater in the early 1980s, he did a live sex show (a live orgasm to complement so many of those on-screen orgasms), but according to Steven Toushin, owner of the theater, he spent most of the time there signing autographs and talking to fans.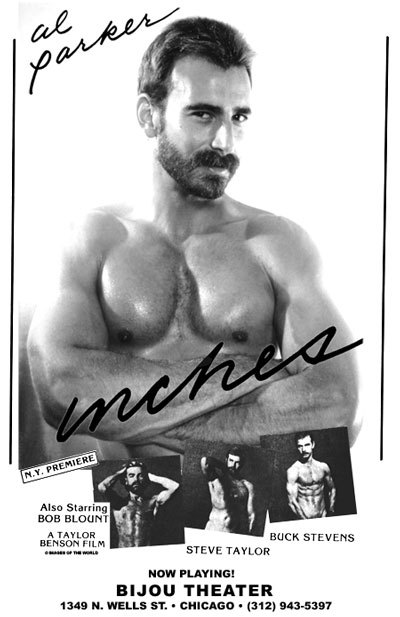 Vintage poster for the Al Parker film, Inches (Steve Scott, 1979)
And the uber-Daddy of them all, Richard Locke, also appeared at the Bijou Theater in 1984. Here's a description of the event, which, as with many other events that showcased porn movies and their stars, blurs the lines between on and off screen performances in an enticing, exciting way:

"The screen on the Bijou screen – a dimly lit room at truck stop, fitted with grimy cots, where truckers catch forty winks before they hit the road again. [A scene from Joe Gage's 1976 classic, Kansas City Trucking Co.] In this case, however, the truckers are not sleeping; they are fucking and sucking with a vengeance. The center of the action is the older, experienced trucker, played by Richard Locke, muscular, masculine, bearded and obviously enjoying himself on screen. The light on the movie screen fades, and suddenly a figure appears from behind the screen. A cool blue light silhouettes a muscled body and music builds. A new kind of show is in progress at the Bijou Theater — but Richard Locke is still the center of attention... Richard turns to face the audience, clad only in a leather harness, stroking his erect penis... Finally he reaches orgasm, shooting onto the mesmerized audience. He turns back, the lights fade, he exits and the film Richard Locke returns to the movie screen."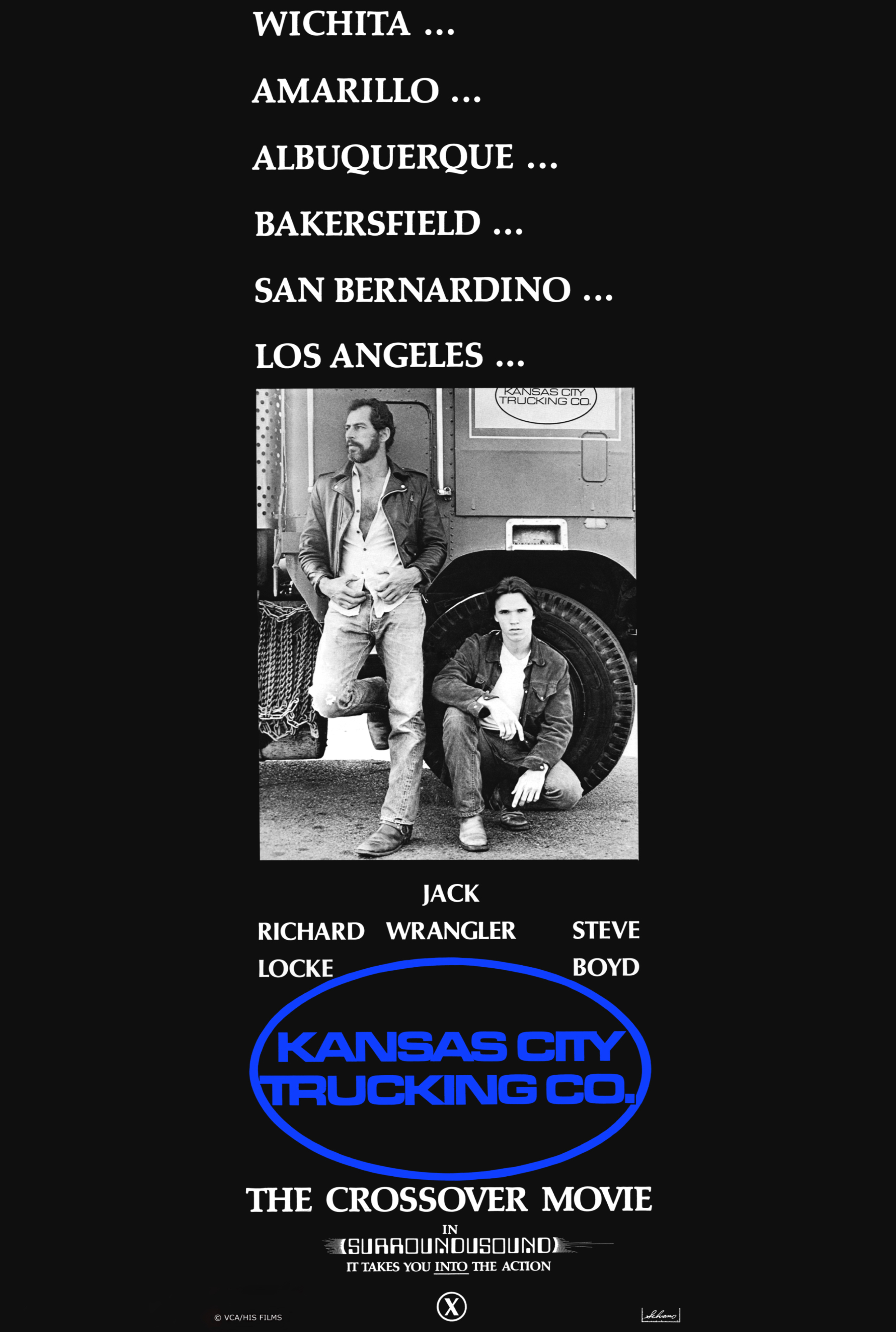 Vintage poster for Kansas City Trucking Co.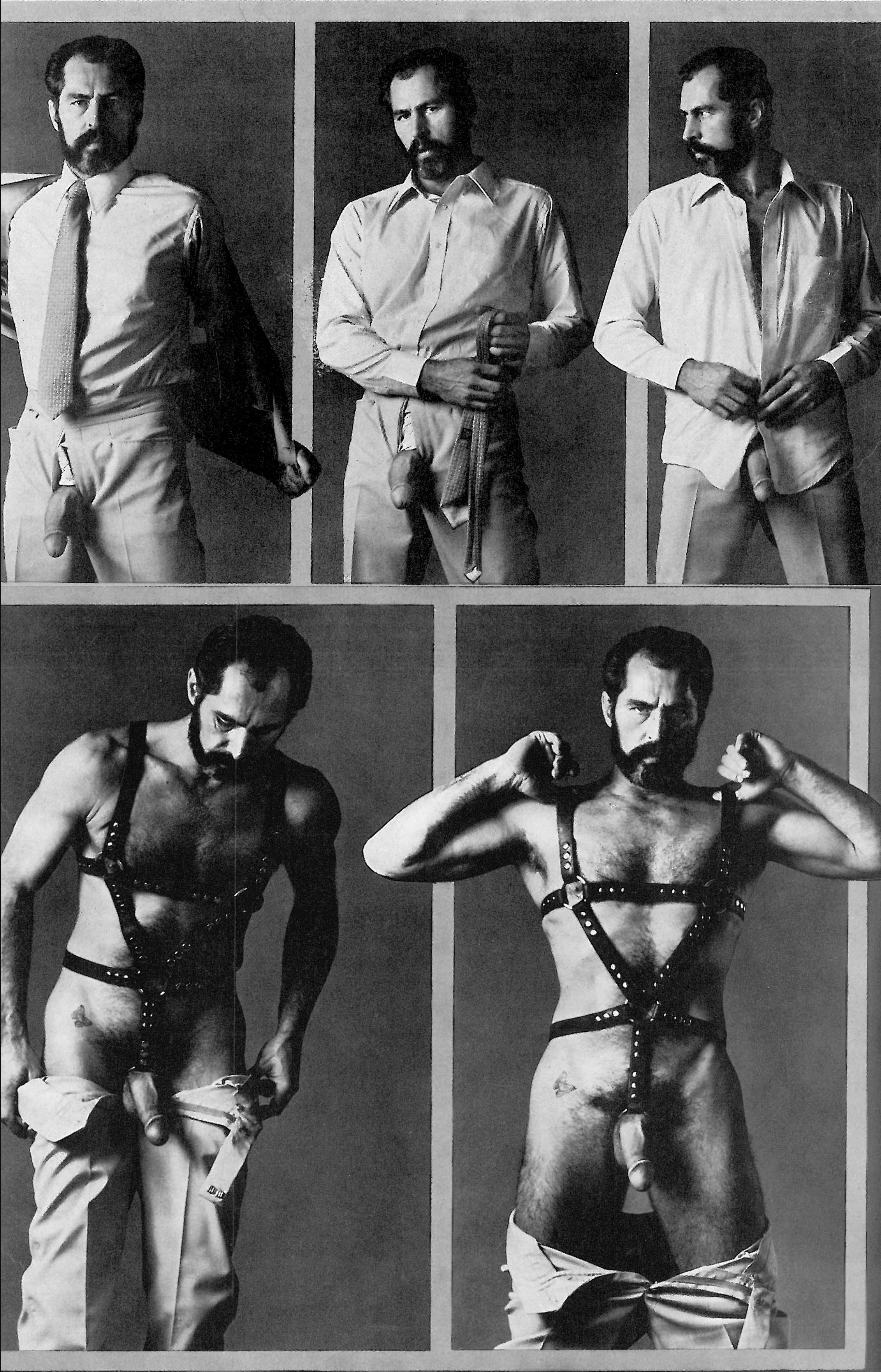 Richard Locke striptease
Now, the above event may be unique to the dynamic of gay porn and its purpose of sexual exploration and gratification, but what happened after that movie/performance links to that Old Hollywood world:

"After his live show, Richard meets his public, signing autographs and talking to a group of eager fans. He is friendly and unassuming as he talks. One young man asks Richard to autograph his back and tells Locke that he will have a tattoo made of the signature. (A later encounter with the same man proves the truth of his boast.) One by one the crowd drifts away and another day's work is finished for Richard Locke, erotic entrepreneur."

Amazing, and so exciting! Joan Crawford would have been thrilled (perhaps more by the method rather than the content!). Richard, like she did, was working a publicity machine, one of his own making. And he understood that what fuels that machine are the fans and their fantasies, hopes, and dreams. The young man with the tattoo in the quote above was living embodiment of these emotions.

Yet, unlike Joan, he skillfully kept his "divo-hood" on the screen, but at the same time let that larger-than-life screen persona become real in the flesh when he appeared live in that brief moment of ecstasy.

Some say home video (and then the internet) and the tragedy of AIDS killed this world. Perhaps, on the surface, yes.

But in hindsight I think it's a deeply complex issue revealed in today's cultural climate as red carpet events still unfold, and the culture of celebrity has become something like a 24/7 fuck fest. But the cinematic magic that thrives on finely-crafted illusion that elicits an audience's deeper intellectual and emotional responses gets lost in a weird combination of special effects and banal cynicism.

The great porn stars like Al Parker and Richard Locke created and crafted a visual and sexual magic in their films and in their performances and in their audiences.

Bette Davis said in her movie The Star, "If you're a star you don't stop being a star." And thanks in great part to the Bijou Video's preservation and revitalization of their legacies, Al and Richard still shine.

Look for their movies on DVD at BijouWorld.com and streaming at BijouGayPorn.com, including our brand new release The Best of Richard Locke!